We asked HCM artist's to share their best tips for getting through the busy days ahead.
Are you ready for the holidays? You're a harpist so of course you are! But hey, we all know it can be hard to keep a positive outlook all season long. We asked HCM artists to give us their best tips for surviving the #holidayharping season. Plus, we know you'll want to check out their great holiday arrangements to update your holiday rep.
#1
"Portable Food! Every year, by Christmas Eve I never want to see another granola bar again. Last year I had the idea of assembling a stash of easy-to-grab and appetizing (non-granola bar) snacks to toss into my gig bag on my way out the door. These included applesauce packs (the squeeze kind), trail mix, string cheese, Craisins, and Babybel cheese wheels. I also discovered I could leave my bench in the car the entire month, and use a similar bench in my practice room, thereby saving dozens of trips back and forth from the car."
"I'm hoping that harpists searching for moody, intricate, ancient-sounding arrangements of Christmas carols will discover that this is precisely the book to spice up their Decembers," says Stephanie.
Check out Stephanie's Light So Brilliant collection, reviewed in the September-October issue of Harp Column."

#2
"Prepare ahead, don't wait to the last minute to learn notes for the important seasonal repertoire (Nutcracker, Dancing Day, Ceremony of Carols, etc.) so that you can relax and enjoy performing this gorgeous music! Pace yourself as you are going through those intense five weeks. Make some time to enjoy the season, too. Take walks, sleep well, and enjoy some holiday goodies. Most harpists work so hard during the holiday season that they don't have to worry about holiday calories. So indulge yourself—you can't give holiday magic if you haven't received some, too."
Christa's music

#3
"I love Christmas and when December arrives I am so excited to play my first Christmas piece, but I have to admit that this excitement dwindles a little on the fifth hour of playing on Christmas Day," says the Pedal Sliders' Amanda Whiting. "Surviving the season includes a volume of music, not just Christmas but maybe pieces associated with Christmas films and programs as well. I tend to use lead sheets so I can play numerous versions and make the pieces last for a while with improvising opportunities.  I also try and have a wardrobe of mix-and-match reds and blacks with some seasonal sparkles…Quick and easy, with little thought, when the month gets busy."
Amanda's music
#4
"I try to only have two or three big pieces to perform for the entire season, and fill in with simple, beautiful Christmas tunes. I find that people just love the harp, so we can choose to keep it simple! Not every song has to be a show stopper. Therefore I stay relaxed, and have a great time performing! I also try to be ready EARLY! This always helps!"
"My arrangement of 'Silent Night' is a beautiful, intermediate arrangement," says Joy. "If you need a crowd pleaser, this is the one. It has rich 7th chords, a verse of arpeggios with melody in treble, and everyone says it is one of the nicest 'Silent Nights' they've heard!"
Joy's music
#5
"I actually miss the holiday season, believe it or not. If you are living in Tel Aviv you may never even notice Christmas season! I loved playing for Christmas parties because they were fun and festive. I learned to keep things simple and play with joy. I didn't play music with page turns (or not many) and built up my repertoire with pieces I loved to play. 
If I am playing in a church, I try to keep it simple and sacred. I also learned to dress with enough layers to stay warm and bought a great stand light!
Check out Sunita's Christmas Eve collection of 16 solos for Celtic harp.

#6
"Probably the most important thing for me in surviving the holiday season is making sure I take the time for projects that mean something to me—which means carving out the time. I'll make appointments with myself, and keep them, just as though they were with a colleague, and I make the focus of the time very specific—such as 'extracting and formatting parts for the new Christmas harp ensemble arrangement. I also always, always set up my gig bag the night before—so I'm never in the position of running around the last minute looking for music, stand, etc. This is so helpful in taking some of the stress out of all the running around!
"I hope that anyone buying my music will find the arrangements to be musically satisfying," says Alyssa, "whether the simple solo repertoire, the multi-level harp ensemble pieces, or the more demanding chamber pieces."
Alyssa's music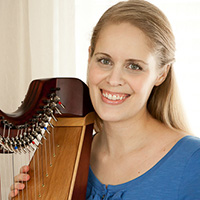 #7
"I survive the holiday season by not over-scheduling myself. I also make time to play my harp just for fun at home which helps relieve my stress. During the holidays, I love sitting by the lights of my Christmas tree, playing songs that fill me with the joy and peace of the season."
"My Christmas solos for harp are perfect for bringing and sharing that peaceful spirit of the holidays," says Jodi. "My arrangements have a very full sound, but fall easily under the fingers with repeating patterns that make my pieces easy to learn, even for some beginner harpists. I hope my Christmas arrangements will bring much joy and peace to you and those you play for this holiday season!"
Jodi's music

#8
"I have two rules for the holiday season. My first rule is to prepare early—there's never enough time to practice in December. My other rule is to remember to have fun and enjoy the holiday season. It's so easy to get caught up in the frenzy of performances and logistics. Instead I try to focus on the fun and the celebrations, looking for those unexpected moments that make the season special.
"I also choose my holiday music carefully, incorporating plenty of fairly easy arrangements, along with more meaty, challenging repertoire," says Anne. "That's how I hope my arrangements on Harp Column Music will help you too—giving you beautiful music to play that won't add to your holiday stress."
Anne's music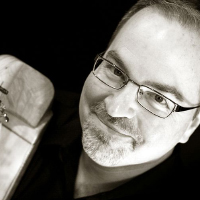 #9
I would say to keep it simple. Most people just want to hear familiar carols at Christmas time, so there's no need (other than personal gratification) to learn complicated pieces, (unless, of course, you are asked to play Britten). They would be happy to hear "Silent Night" in whole notes!
Rhett's music

#10
"In order to keep my sanity playing multiple holiday gigs, I try to keep my arrangements simple so that I can change them up each time I play them with improvisation and chord alterations."
"My latest solo harp arrangement of
What Child is This can be played on pedal or lever harp and the second verse is an improvisation on the melody," says Cindy. "Hopefully this will encourage harpists to do some improvising on this classic
tune as well!