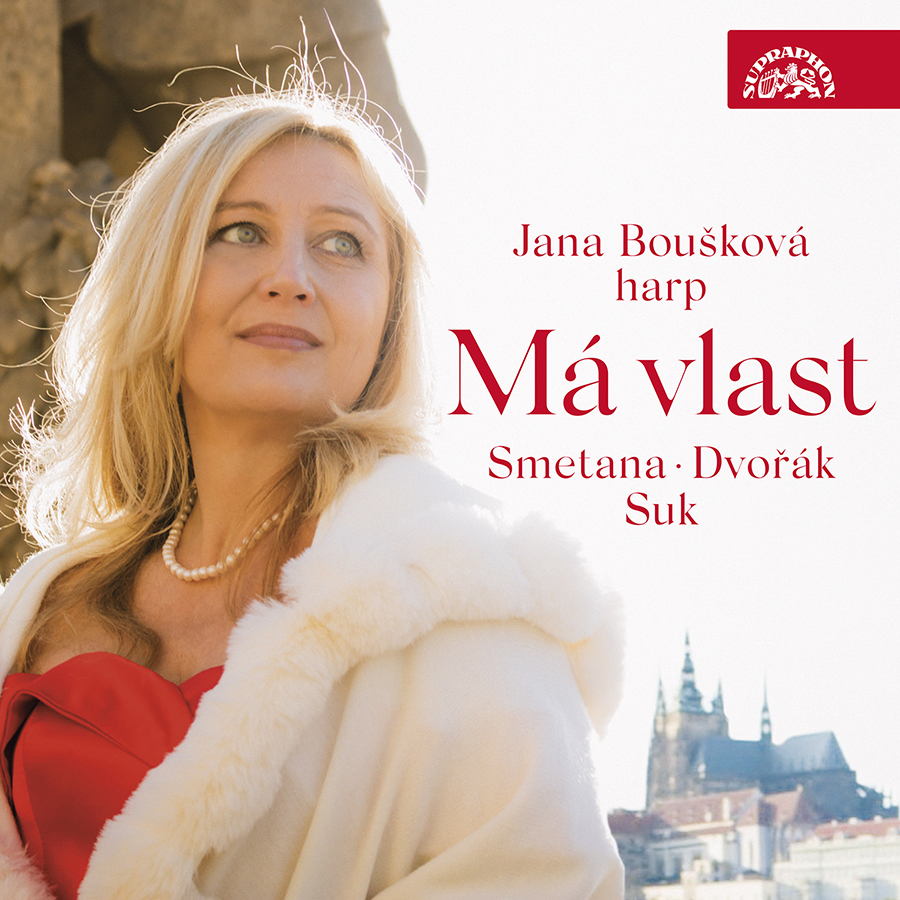 10/10
Jana Boušková, harp.
Supraphon, 2021.
The three most important classical Czech composers never wrote music for solo harp. But that may be because they didn't have an artist of such breadth and depth of musicianship as Jana Boušková. With over 20 albums recorded, her latest disc is a labor of love and the culmination of a life-long passion to convince the world that the harp is a solo instrument in its own right – that it's full of color and contrast and capability, like a full symphony orchestra. Her newest disc Má vlast (My Country) presents a recital of Dvořák, Smetana, and Suk in a new guise, a soundworld both familiar and fresh that is sure to make you come to perceive this music—and the harp itself—in a whole new light.
Recorded in Dvořák Hall at the Rudolfinum in Prague, we are ushered right at the outset into the expansive resonance of Boušková's approach, challenging us to ever again hear the harp as a "gentle instrument" or one only meant for angelic and calming sonorities. The CD opens with the first poem in Bedrich Smetana's Má vlast, Vyšehrad or "The High Castle." Smetana completed this work as he was losing his hearing and opens the work with a complex motive in the harps, which Boušková expands into a dreamy and distant sequence, making way for the complexity to come. Most notable is her ability to quickly move through chromatic passages without once betraying their technical challenges. Following is a dreamy Vltava or Moldau, her musical phrasing unbroken even amidst the perpetual movement of the water and waves. In Šárka, she constructs a mystical backdrop for the ancient tale of scheming, betrayal, and murder.
Dvořák's Suite in A Major, "American" was originally composed for solo piano when Dvořák was a visiting artist in the United States. There is a mix of "native sounding" music—especially in the opening theme with its modal sweep—and the Old World folk music Dvořák heard in America's heartland. We hear what was a piano work imaginatively metamorphosed into an orchestral piece then back again to a wholly unique piece for solo harp that contains all elements of sentimental tenderness to explosive joy. Boušková accesses a wealth of timbres, summoning us closer with a silvery intimacy that all at once bursts into a flurry of fast-moving notes and blossoming tone. The music is raucous with practically instantaneous changing moods from motive to motive. Always in control, Boušková excels here in particular, expertly ushering us exactly where she wants us to go.
Joseph Suk married Dvořák's daughter and often approached his father-in-law with manuscripts for constructive criticism. The main bit of advice he received was to lighten up, and he did so brilliantly in Summer Moods, a piano work that explores evocative harmonies that paint a picture of fleeting moments. A work of modest proportions compared to the range of the previous works, it nonetheless compels the artist to dig deep into their imaginative reserves to generate an atmosphere of summer's insouciance. In At Noon, Boušková takes a reserved tempo allowing the melody to float above muted arpeggios in a soothing arc. Children's Play bounces along as if the game was already underway, her rhythm flippant in the way of a child not wanting to be tagged. As the CD, which opens with proud majesty, concludes with Evening Mood, it's a delight to hear Boušková reminding us that, indeed the harp can be gentle, angelic, and symphonic.