Being a harpist during the holidays leaves little time to shop around for the perfect gift for the other harpists in your life. Don't worry, practical harpists, we've got you covered. You can spend your time practicing carols and shining in the Nutcracker cadenza because we have gathered the best gifts to give every type of harpist in your life this year. You may even find an idea or two to put on your list for Santa Claus. What could be better? All gifts featured are under $50!
Author's Note—Prices for the items listed were gathered in September 2021, and therefore pricing is subject to change.
The Gigging Harpist
It's the busiest time of the year for the gigging harpist. Check out these gift ideas to make their hectic life a little easier.
Satinior Half Finger Gloves
Where to buy: Amazon
Price: $8.59
These are perfect for the harpist gigging outside during cooler months. These gloves allow you to keep your fingers warm while also keeping the dexterity needed to perform.
forScore App
Where to buy: App Store
Price: $19.99 or ForScore Pro $9.99/year
Give the gift of digitizing your favorite harpist's music library. ForScore allows you to read sheet music through a tablet or iPad with many features for marking music, sharing music, quick page turning, and much more. Toting heavy music binders is a thing of the past!
Harp Column Music Gift Certificate
Where to buy: HarpColumnMusic.com
Price: Any amount you choose
Harp Column Music has a vast repertoire of sheet music downloads. Search hymn arrangements, holiday music, pop tunes, and more and receive your sheet music instantly—perfect for those gigging harpists who receive a last-minute song request!
"Please Do Not Touch" Harp Drape
Where to buy: HarpCouture.com
Price: $20.00
Protect your harp from curious fingers with this non-slip quilted drape embroidered with beautiful gold thread. No longer will you have to worry when you take a stretch, snack, or bathroom break at your next gig.
Dreubea Faux Leather Tote Bag
Where to buy: Amazon
Price: $19.99
This large capacity tote bag is perfect to carry everything you need to a gig—music, tablet, extra strings, you name it. Its simple but fashionable design and faux leather material make it versatile to sport at any gig from a wedding ceremony to a gala.
The Practical Harpist
Help the practical harpist in your life stay organized and prepared with these gift ideas.
Monthly Planner by The Home Edit
Where to buy: Target
Price: $14.99
Get organized in 2022 with this fun but practical planner! Included are goal-setting pages, organization worksheets, monthly/weekly/daily calendar views, and a spot to jot down your daily to-do list. Never forget about a bridal consultation, lesson, or rehearsal again.
Purpose In Practice Journal by Rachel Lee Hall
Where to buy: Amazon
Price: $9.99
This six-month daily journal will help you stay on task with your harp goals in the new year. Included are inspirational quotes and weekly practice tips to help you stay motivated.
Harp Column Academy All-Access Membership
Where to buy: HarpColumnAcademy.com
Price: $9.99/month or $4.99/month for single-studio pass
Whether your 2022 goal is learning to play in a new style of music, how to practice more efficiently, or learning to arrange music for harp, Harp Column Academy has a virtual class to help you achieve that goal. Subscribe and receive access to nearly 500 lessons from master teachers!
Vekkia LED Music Stand Light
Where to buy: Amazon
Price: $25.99
Give the gift of light! A great stand light makes all the difference for poorly lit practice rooms or gig locations. This light has three different color temperatures and is rechargeable.
The A to Z of Foreign Musical Terms by Christine Ammer
Where to buy: Amazon
Price: $12.00
Every practical harpist needs to understand foreign musical terms. Whether learning a harp solo or an orchestral part, you really should translate all words to better understand the music. This handy book lists many terms including those most-used and is a great collection for curious minds.
The Techie Harpist
We've got gadgets galore for the tech-savvy harpist in your life.
CAD Audio U37 USB Studio Condenser Recording Mic
Where to buy: Many retailers
Price: $36.40
This USB mic has great reviews for use on acoustic instruments. You'll be on your way to home recording in no time!
Zeity USB Computer Speaker
Where to buy: Amazon
Price: $15.98
This handy USB speaker can be used to amplify recordings, allowing you to easily practice along with orchestral recordings, demo tracks, etc. Or use it to listen to your favorite harp recordings.
Harp Column Magazine Subscription
Where to buy: HarpColumn.com/subscribe
Price: $44.95 for 1 year/$79.95 for 2 years
Keep up to date with the latest in harp technology from recording equipment to effects pedals with all the great interviews and articles in Harp Column.
Sensyne 10" Ring Light
Where to buy: Amazon
Price: $35.99
Is the harpist in your life looking to livestream or create YouTube videos? This is the perfect gift so they have the best lighting possible for their content.
Elitehood iPad Tripod Stand
Where to buy: Many retailers
Price: $23.79
Say goodbye to carrying heavy music stands to gigs in 2022. For those that have digitized their gig book, this sleek stand is built to hold your iPad. It rotates and adjusts in height.
The Healthy Harpist
These gift ideas will help keep your favorite harpist strong in body and mind.
Stretches for Harpists
Where to buy: Atlanta Harp Center
Price: $10.00
This set of cards walks you through 21 different morning stretches to help keep your body ready for the harp.
Yeti Rambler 30 oz Tumbler
Where to buy: Many retailers
Price: $34.99
Stay hydrated throughout your gigs with this slick, handy tumbler that keeps drinks cold or hot all day. Perfect to hold water for outdoor summer gigs or tea at that four-hour Valentine's Day performance.
Harp Coffee Mug
Where to buy: @1GalleryAbove on Etsy.com
Price: $14.95
Enjoy a cup of tea during your practice session and sip out of this colorful mug designed by watercolor artist DJ Rogers.
The Musician's Essential Exercises
Where to buy: Amazon
Price: $9.95–22.50
This book by Angela McCuiston teaches musicians the exercise basics you need to avoid injuries and strengthen your body to have a long, healthy harpist career.
OBI Ceramic Lamp Warmer
Where to buy: Amazon or your favorite home goods retailer
Price: $19.99
Turn your practice room into the ultimate relaxation spot with an electric wax warmer. The possibility of soothing scents is endless and will make you want to spend more time practicing!
The Fun Harpist
Here are some playful gift ideas for the harpist who is always ready for a laugh.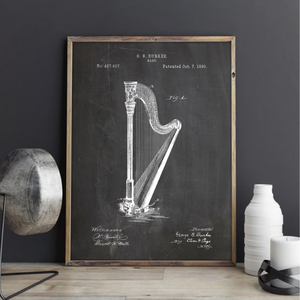 Harp Patent Poster
Where to buy: @GattoStamps on Etsy.com
Price: $3.29
This harp patent poster is a fun addition to any practice room! There are options to have this printed or purchase a digital file to print it yourself and save some money!
Colorful Tuning Key
Where to buy: At your favorite harp retailer
Price: $29.50
Add some pizzazz to your harp with a fun, colorful tuning key. Available in bubble gum pink, lavender, kelly green, and lots of other fun colors. It's the little things!
Glitter Makeup Bag
Where to buy: @SukiSaburDesigns on Etsy.com
Price: $23.08
This fun, glittery pouch is great for more than just makeup. It is the perfect size to store pencils, harp picks, dusting cloths, nail clippers, and more within your gig bag.
Sparkly Irish Harp Ornament
Where to buy: @KatieLarmourLinen on Etsy.com
Price: $21.64
Harpists are used to receiving harp ornaments during the holiday season, but few are as beautiful as this one! Made from reclaimed Irish linen, gold beads, and faux pearls, this is beautiful to display year-round, not just during the holiday season.
Harp Cookie Cutter
Where to buy: Harp.com
Price: $17.00
Know a harpist who loves to bake? This cookie cutter is the perfect gift. Use it to bake cookies for a harp society get-together, recital reception, or any other party. •
---
Stocking Stuffers
Eight handy ideas to fill the stocking of your favorite harpist.
[/et_pb_text][/et_pb_column]
[/et_pb_row]
[/et_pb_section]