We are extremely excited to announce that Harp Column Music will once again be collaborating with the Philadelphia Orchestra to provide music for their next PlayIN for Harp on Oct. 27 2018! (Check out our recap of the last harp PlayIN in 2014.) The PlayIN coincides with the Lyra Society's Fall Festival and will also feature Philadelphia Orchestra principal harp and Lyra Society founder Elizabeth Hainen. To find out more about the PlayIN, we talked with the Lyra Society's Executive Director Elizabeth Steiner. Scroll down for the lowdown on everything you need to know…
Music for PlayIN
What is a PlayIN?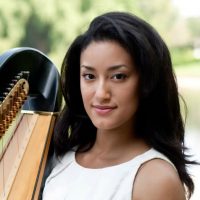 "Created by the Philadelphia Orchestra members, the PlayINs are opportunities for local musicians to play alongside Philadelphia Orchestra members in a group ensemble setting. Participants can register and download music for free, prepare their parts, and then come together in one large harp orchestra to perform a variety of pieces with Principal Harpist Elizabeth Hainen and other orchestra members in a fun and rousing environment at the Kimmel Center!"
Why are you excited about it?
"I am so excited to see familiar and new faces in the harp community come together from across the region to make music together. We have such a wonderful harp community in [Philadelphia] that is ever expanding, and we don't get that many opportunities to come together through our shared love of the instrument, so I am looking forward to seeing harpists of all ages and levels play side by side."
What is the Lyra Society's role in the PlayIN?
"We have worked closely with the Philadelphia Orchestra to organize and plan every aspect of the event. From choosing the repertoire, to working with Harp Column Music and the Virginia Harp Center, to planning logistics and making sure the event is as harp-friendly as possible—such as the locked room that will be available to harpists to store their instruments and belongings in if they choose to take advantage of the special ticket offer for the harp-rich program at the orchestra that evening. I wanted the event to be logistically as easy as possible from music download to harp loading so harpists can focus on having fun while performing and enjoy meeting other harpists."
What can participants look forward to?
"The sound of many harps filling the Kimmel Center plaza will be beautiful! At the last Harp PlayIN in 2014, the atmosphere was extremely welcoming, friendly, and fun. It's not every day that you get to perform with harpists of all ages from around the region outside of summer programs, so it can be a fun way to expand your horizons and participate in a unique and rare occurrence."
Anything else you want to tell us?
"Definitely take advantage of the special ticket offer provided to PlayIN and/or Masterclass observers (we are also hosting masterclasses led by Susann McDonald at the Curtis Institute of Music on Friday and Temple Univeristy that Saturday) since the program 'French Tales' includes many great orchestral harp parts—Dukas' Sorcerer's Apprentice, Ravel's Piano Concerto and Daphnis et Chloe. Like I mentioned we made sure there will be a spacious, locked, and safe room to store your harp after the PlayIN so participants can enjoy dinner in Center City and the concert at 8 PM. Lastly, promotions will be provided from the Virginia Harp Center and Harp Column Music for all participants!"
Register for PlayIN
Download PlayIN Music