Bisiad
Kevin Le Pennec and Morgane Grégory, harps and vocals.
Self-released, 2021.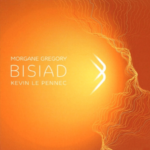 Bisiad is a band made up of two Breton harpists and singers, Kevin Le Pennec and Morgane Grégory. Two-time first prize winners at the international harp competition of the Lorient Interceltic Festival, this duo combines folk with a toe-tapping funk that can't help but make you smile. Bisiad is a name derived from the word "biz" or finger, and with the suffix you get, "What you have in your fingers." Their debut album begins with Invitation, a song sung in French with arms wide open welcoming us into "modern trad," a fusion of Irish, Scottish, and Breton influences. There is nothing like a reel meant for fiddle played by two harps—it's effervescent as champagne. Another favorite is RhythmNBis, combining two dances, an An dro in four and a hanter in three. But there are moments of melancholy and deeper emotions too, especially in the original tune Mésange et Rossignols, a song that raises awareness to everyday misogyny. Added to the mix is the star of the guitar and banjo, Arthur Manuel.
Ffiniau
Bethan Nia, harp. Self-released, 2021.
Also for your consideration is Ffiniau, the latest disc from Welsh harpist Bethan Nia. With a mix of Welsh folk harp, a mellow funk and her resonant alto, Nia brings an unusually earthy presence to her performances. Ffiniau means "borders," and these are ones explored both emotionally and musically as songs are sung in both English and Welsh. Favorites include Kananaskis, the harp in the forefront then joined by strings, seemingly whispering from the past and yet ushering in a future fusing pop with tradition. Balad Sgêr is a tale of woe that spares no place or time, one where a maiden is forbidden to marry the man she loves. Nia's slow vibrato underscores the longing. In Winter's Song, Nia includes the soft caress of a fiddle, and Outside leaves us wanting more, her expressive style seeming to put words to our own emotions. Not all slow and searching, Ym Mhontypridd Mae 'Nghariad moves at a clip with bass and drums in a quasi-tabla adding an easy gentle groove. •