About Obelisk
Notes from John Wickey:
Obelisk is a three-movement work that uses ancient modes and harp effects to depict the music and mythology of ancient Egypt. Using the name of the four-sided monument for this composition scored for harp quartet seemed an obvious choice. While some features of ancient Egyptian music were used (e.g. the Phrygian dominant and Lydian modes, unmetered passages, etc.), the composer was not striving for a literal recreation, rather, an evocation of various moods in the piece's three sections.
"In the temple of Anubis"
Anubis was the jackal-headed god who guided the dead and weighed their hearts against a feather. Those with heavy hearts were damned. The melody is enhanced with sons pincés (pinched sounds), tuning key slides and other effects accompanied by low bass notes and chords—the whole representing Anubis slowly conducting souls to the underworld.

"Ra spoke their secret names…"
Ra, was the central (sun) god and the obelisk was his symbol. He was said to have brought all creatures into existence by speaking their secret name. The fluttering bisbigliandi and glissandi effects allude to this event.

"The Eye of Horus"
The Eye of Horus is a symbol of protection against evil that has a rather gruesome origin story. The god of the sky, Horus, had his left eye torn out in battle with Set. The eye was later restored and then offered as a sacrifice to resurrect his father Osiris. The final section of Obelisk is a march punctuated by aggressive attacks and a driving rhythm that leads to the ultimate triumph of Horus.


About the Modern Quartet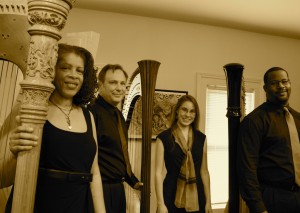 The Modern Harp Quartet is the dynamic blend of talents of harpists Lydia Cleaver, Maurice Draughn, Anne Owens, and John Wickey. All four discovered their instrument at the famed harp department of Detroit's Cass Technical High School, which has offered instruction since 1925. Through their arrangements, compositions and exciting performances, the Modern Harp Quartet promotes the harp as a versatile, modern, instrument, capable of producing a vast array of tone colors and effects.