Beyond the Horizon
Lauren Scott, harp. Avie, 2020.
As long as simply beautiful sounds are on the menu, I need to mention Lauren Scott's entrancing new disc all for lever harp, Beyond the Horizon. Her love affair with the instrument came when she performed John Cage's halting and poignant In a Landscape. She found it didn't quite work on the instrument it was intended for, but came alive when played on the earthier folk instrument. This led to a rethinking of music that might speak better through the subtlety of gut strings, a thinner sound board and less dampening. Unlike any other recording I have heard in this idiom, Scott brings the rigor of classical pedal harp to the intimacy of this more traditional world. It's not simply in well-known works like Peter Maxwell Davies Farewell to Stromness or Douwe Eisenga's heartfelt For Mattia, but also in the more upbeat like Monica Stadler's Away for A While in which the ringing strings blossom into a kaleidoscope of color. An object lesson to those of us attempting to tap into our creative voice, when Scott began playing the folk harp, composing her own music came "like a shot out of the blue," and we are the beneficiaries of a raft of delightful original works.
Fragments
The Juniper Project: Eira Lynn Jones, harp, and Anna Rosa Mari, flute. Divine Art, 2018.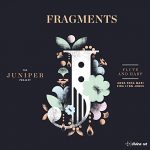 The Juniper Project—flutist Anna Rosa Mari and harpist Eira Lynn Jones—summons us to a dream-like world from the very first notes of its new disc Fragments. The little bell-like tone called for from the harp at the opening of French composer Bernard Andrès Seaweed, becomes a call to action—to simply lie back and luxuriate in the lovely sounds to follow. Coupled with Mari's heavenly quality, Jones hypnotizes with her gentle and unpretentious calmness. Even in more rigorous music, like Jacques Ibert's Entr'acte, a softness and poise is maintained. Standouts include the lusciously full-bodied The Garden of Adonis by Alan Hovhannes and the tenderly jovial Three Fragments by Witold Lutosławski. If you are looking for a fairy tale told in tones, the Juniper Project is a must