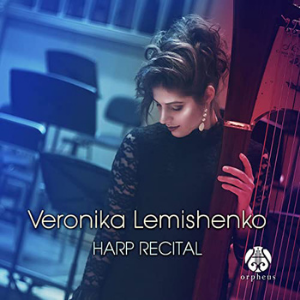 8/10
Veronika Lemishenko, harp. Self-released, 2020
---
Veronika Lemishenko's new CD Harp Recital begins dark and foreboding, and that energy barely lets up even when the program gives way to lullabies with partner instrumentalists. But that's what gives this recording its creepy charm, like an Edward Gorey coloring book of mysterious characters doing mysterious things. Lemishenko is Ukrainian and plays principal harp in the Ural Philharmonic in the city of Yekaterinburg, known as the "Window to Asia." Perhaps it's the cold, the view to the steppes, or the fact that she lives at once in Europe and the East that urges Lemishenko to access the fierceness in the musical language of these six contemporary composers. 
Paul Patterson wrote Spiders inspired by harpists who sit at a set of strings seemingly weaving a web of sound. If you have ever watched a spider dart away when the lights go on, you can visualize the tangle of movement in "Dancing White Lady" in 7/8 time. Lemishenko never skips a beat, giving the illusion her spider is agitated but unafraid to look back in menace. With evil sounding pedal shifts and biting glissandi, "Red Backed Spider"—an Australian type of Black Widow—is at once beautiful and deadly, while her North American cousin is a shy weaver, taking all the time she needs for this wicked task. Lemishenko enters the hypnotic realm, making her every note as if a tentative step by long appendages. The final "Tarantula" is a perpetual motion tarantella in triple time, played spot on as a "hysterical impulse to dance."
Lowell Liebermann's Sonata for flute and harp begins with a slow, almost narcotic rhythm, flutist Alexandra Ushakova's somber lyricism a perfect match for Lemishenko's lush depth of sound. In the middle and faster section, the duo brings forth its primitive nature with an elastic dynamism. Ushakova returns for a lullaby of such fragile beauty by Paul Patterson, with the ante raised sublimely in another lullaby by Paul Mitchell-Davidson, with saxophonist Alexey Zakharov giving it a gentle hush.
But my money is on the darker works, the short but electric La danse devant l'Arche by Jacques Charpentier, a work presented with an intimate ambiance in all its off-kilter frenzy. This appears to be Lemishenko's skill, to get down into the dark places, using an expansive approach and wide palette to conjure an atmosphere. Most notably in Bernard Andrès Elégie pour la mort d'un berger in which we hear strumming guitars and drums in a meadow where this shepherd's ghost may still wander.
Closing the album is Metamorphosis by Philip Glass, arranged for two harps. It is to their credit that when Maria Pozdnyakova joins, it's nearly impossible to tell there are two players even as the quavers double and triple in time, making a more symphonic sound in this final dark quasi-lullaby. A fitting conclusion to a very fine album.