30 Day Practice Challenge 2020
Something Old, Something New
Harpists, are you ready for a challenge? We thought so! This year's theme is something old, something new. Throughout the month of January, we're challenging you to learn a new piece AND to relearn an old piece now forgotten. In the rush of moving on to a new project, we often neglect reviewing past performance pieces—but there's much to be gained both from going back as well as moving forward!
The rules:
Pick a piece (or movement of a piece) that is new to you and appropriate to your level that you can learn in 30 days.
AND pick a piece (or movement) that you performed or learned more than a year ago that you can work back to performance level in 30 days.
Commit to practicing your chosen pieces for a minimum of 20 minutes total each day throughout the challenge. Finish learning/re-learning your pieces by the end of the challenge.
Optional: tag Harp Column and #hcpracticechallenge on social media for a chance to win our grand prize! (Tag @harpcolumn on Instagram, @harp_column on Twitter, and search Harp Column on Facebook.)
Win prizes
The challenge is absolutely FREE to enter, and we're giving away prizes every week to lucky winners! Sign up to receive our daily motivational emails with inks to Harp Column articles and videos to help you reach your goals. Heads up: anyone can join the challenge and win prizes, but you'll need to subscribe to Harp Column and be a member of Harp Column Academy to access articles and videos. You can come back to this page for daily challenge updates, but you'll need to sign up if you want to be enrolled to win prizes.
Repertoire Suggestions
Before you begin the challenge, you'll need to pick two pieces. The "old" piece should be something already in your repertoire. If you're looking for something "new," check out some of our suggestions to download instantly at Harp Column Music.
Bring It!
This is YOUR challenge, so pick whatever pieces works for you. We'll be posting daily inspiration right here that you can apply to whichever piece you've chosen to focus on this month. Want a little practice accountability? Use our practice log to keep track of your daily progress.
Don't forget to comment here and tag us on Facebook and Instagram to let us know what you're working on and how you're doing with Harp Column's 30 Day Practice Challenge 2020!
Let the challenge begin!
---
Day 20
"You can't use up creativity. The more you use, the more you have."
—Maya Angelou
Today's goal:
Spice it up!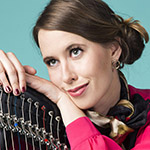 Woohoo—you're two-thirds of the way through the 30 Day Practice Challenge! If your practicing has fallen into a rut, master teacher Maeve explains practical ideas for getting creative in her lesson at Harp Column Academy.
Watch now.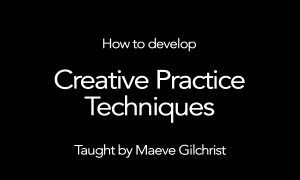 Today's technique tip:
Experiment with harmonics.
"It's interesting to consider that you can get some different colors in your tone depending on how you place your finger against the string," says master teacher Nicole Brady in her lesson on harmonics at Harp Column Academy. Get creative for ensuring a beautiful, ringing tone quality on your harmonics.
Watch now
---
Day 19
"The expert at anything was once a beginner."
—Helen Hayes
Today's goal:
Set realistic goals.
As you work hard to accomplish your goals, don't lose sight of your underlying motivation. "The goal should be to have fun with the experience. And the speed that you can go—don't try to set unrealistic goals, don't ask me how quickly I will learn this or that; nobody can have that answer, realistically. The important thing is fun in the process; music is wonderful, and anybody can do it at their level," says doctor-turned-harpist Alfredo Rolando Oritz in our July-August 2009 interview. Download this issue tor read the full interview here.
Today's technique tip:
Let your fingers do the work.
"Most harpists don't realize we don't need to use these [arm]muscles as much as we think we do," says master teacher Nicole Brady in her video at Harp Column Academy. It's really our fingers that do the work on the harp and the shoulder that's helping hold it all up." Learn more great tips from Nicole Brady as she teaches "Good-bye to Winter" from the Suzuki Harp School volume 1.
Watch now
---
Day 18
"Win from within."
—Usain Bolt
Today's goal:
Protect your ears.
As school, work life, and ensemble playing resume, start this year with a commitment to protecting your hearing. "Many musicians have a disconnect between the value they place on their hearing and their understanding and protection of this critical sense," says Louisa Ellis Woodson in the feature article "Listen Up" from our March-April 2019 issue. Understand the causes and symptoms of hearing loss, as well as practical strategies to protect your hearing. Read the full article here.
Today's technique tip:
Notice your hand's balance point.
"As I place the 3rd finger, you'll see that the balance shifts slightly forward: the balance is over the center string," master teacher Jaymee Haefner explains in her video at Harp Column Academy. Watch Jaymee demonstrate the subtle differences in hand position when playing one, two, three, or four simultaneous notes in one hand.
Watch now.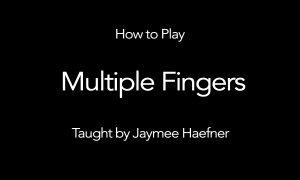 ---
Day 17
"If you do what you've always done, you'll get what you've always gotten."
—Tony Robbins
Today's goal:
Discover something NEW.
Relearning something old can give you the opportunity to find something new! Haley Rhodeside extolls the value of relearning repertoire while recounting her experiences preparing for the USA International Harp Competition. "My extended preparation time allowed me to let some pieces 'breathe.' For example, the Fauré Impromptu was one of the first pieces I learned for the competition. After I learned it, I set it aside to tackle other repertoire. In the time since I first learned the Impromptu, I have 'relearned' it two or three times, bringing it back for various performances and recitals. During each relearning, I have discovered some new musical facet of the piece, some way to make it better." Find out more in "Try, Try Again" from our July-August 2013 issue here.
Today's technique tip:
Aim for intensity and quality when playing softly.
"It's quite a difficult matter to play a piano sound that projects beyond your harp when you want to perform…It takes a lot of support and control," says master teacher Alice Giles in her Harp Column Academy video. Today, use Alice Giles' strategies for playing your quiet sounds with body.
Watch now
---
Day 16
"The man who moves a mountain begins by carrying away small stones."
—Confucius
Today's goal:
Use your core.
 "When your spine is in alignment, the larger core muscles support the center so that there is buoyancy to the arms and legs. Limbs become lighter. Because everything is interconnected, energy, blood, and oxygen flow freely through your body, unbinding muscles and allowing them to do what you demand of them," says harpist and yoga teacher Kerstin Allvin. Engaging your core in a natural posture is essential to avoiding over-use of smaller muscle groups. "When you're constantly asking these smaller muscles to do all the work, soreness, tightness, strain, tendon and ligament problems, and fascial immobility can result." Download the September-October 2012 issue to read the full article here.
Today's technique tip:
Count out loud.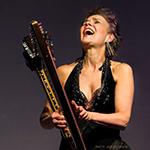 "Counting out loud is not a childish thing to do," says master teacher Deborah Henson-Conant in this lesson on using the metronome at Harp Column Academy. "It's something that really helps us embody the music, and it strengthens our sense of rhythm." Learn the many roles the metronome can play in strengthening your sense of time, helping you to play confidently and compellingly.
Watch now.
---
Day 15
"Do not wait to strike till the iron is hot; but make it hot by striking."
—William B. Sprague
Today's goal:
Don't let life hold you back.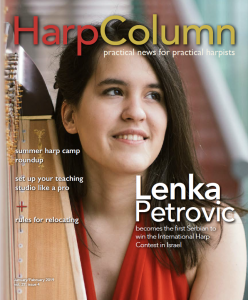 Focusing is difficult in the midst of competing commitments. Marina Fradin, third prize winner at the 20th International Harp Contest in Israel in 2018, discusses preparing for the competition while pregnant and competing with an infant. "I want to encourage more harpists to compete at a later age. This will bring a maturity of musicianship to the contest," she says. "I hope that I can inspire a few young mothers to come to Israel." Find out how she did it in "Homeland Hero" from our January-February 2019 issue here.
Today's technique tip:
Prepare to build speed.
Even though you might not be playing at your goal tempo yet, set yourself up for future success by playing with efficient movement. Harp Column Academy master teacher Alice Giles explains how to use a relaxed wrist and "snappy action" for lightning-fast finger closing, and master teacher Sunita Staneslow demonstrates practical strategies for speedy lever changes.
Watch Alice Giles now.
Watch Sunita Staneslow now.
---
Day 14
"I certainly think one of the things about tradition and innovation is staying open to other teachers, other approaches, other harpists, other musicians we have access to."
—Jennifer Swartz
Today's goal:
Identify the root of your problem spots.
Two weeks into practicing, it's likely that many sections of both your new and old pieces have become much easier, while others remain a challenge. In our January-February 2011 issue, harpists Bridget Kibbey, Lynne Aspnes, Ina Zdorovetchi, Anne Sullivan, Joan Holland, and Louisa Woodson share solutions to common challenges to technique. Download this issue to read the full article here.
Today's technique tip:
Listen to your body and be open.
"There was a time when we emphasized more the doing, as opposed to how the body does it," says Jennifer Swartz, principal harpist of the Orchestre Symphonique de Montréal. "To me that's another piece that shapes how I see harp technique—how we use our body, understanding the physiology of using our muscles, what works and what doesn't, and finding that in harp technique tradition. There's no room to hold on to one thing because this is the way it's supposed to be done or this is the way it always was done. So I see that evolution as a personal project—being always open to discovering how we can make it easier and how we can make more with less effort, to let the music come through." Read our full interview with Jennifer Swartz in our July-August 2017 issue here.
---
Day 13
"If the wind will not serve, take to the oars."
—Latin Proverb
Today's goal:
Avoid complacency.
As you relearn your old piece, can you take it to a new level? "I'm 100 percent appreciative, all the time learning," says master harpist June Han in our July-August 2019 interview. "Really, the minute you feel like you're settled and comfortable, you are regressing. If you are nervous—I tell my students—that's great because that means you want to do well." Read the full interview here.
Today's technique tip:
Strengthen your slides.
"What I have figured out is that if you shoot almost in the same place or higher, it ensures a very smooth slide," says master teacher June Han. Learn this and other practical tips for strengthening your slides with master teachers Gráinne Hambly and June Han in their videos on Harp Column Academy.
Watch Gráinne Hambly now
Watch June Han now
---
Day 12
"You'll never change your life until you change something you do daily. The secret of your success is found in your daily routine."
—John C. Maxwell
Today's goal:
Think about the big picture.
Don't lose sight of the forest for the trees. As you finalize small details in your practicing, think about the overarching musical ideas of the piece. "It's never going to be perfect. There's always going to be some little thing that you could do better, and that's okay. If overall, you're presenting a cohesive musical idea, I think people hear that. If you miss a note or two, you have to be prepared to just go on," says Cheryl Losey-Feder in the Harp Column Academy video Discussing the Mozart Concerto. Watch members of the Dallas Harp Quartet discuss the piece and hear their advice on other aspects of learning and memorizing music.
Watch now.
Today's technique tip:
Create a "home hand position."
"It's going to be very important in your harp training to come up with one reliable, consistent, and durable method for coming to the harp every time you bring your hands to the harp," says master teacher Lynne Aspnes in her video at Harp Column Academy. Learn Lynne's creative method for cultivating a comfortable home hand position.
Watch now.
---
Day 11
"The only place where success comes before work is in the dictionary."
—Vince Lombardi
Today's goal:
Take care of your fingers.
In the dry winter season, how can you avoid painful, cracked calluses? Kimberly Houser, Louise Trotter, and Elizabeth Huntley share their personal remedies in our July-August 2010 advice article. Download this issue to read the full article here.
Today's technique tip:
Control you resonance!
In this Harp Column Academy video, master teacher Jaymee Haefner explains the basics of two-handed muffle technique for clearing the sound of the entire harp. "The most important thing is that your muffle should not create a sound," she says.
Watch now.
---
Day 10
"If you truly love playing the harp, keep at it and don't give up no matter how difficult it may seem at times."
—Gillian Benet Sella
Today's goal:
Be authentic.
"Instead of looking outside for validation of our own abilities, let's look inside. We need to trust ourselves, respect our abilities and our hard work, and take the risk to share ourselves with our audiences, no matter how vulnerable it makes us feel," says Lynne Aspnes in our January-February 2010 article "Take Our Advice. "Read a collection of the best advice top teachers have for their students. Download this issue to read the full article here.
Today's technique tip:
Know your arpeggios!
"It's good to know the notes and know them in any order, but you want to combine that knowledge with automatic muscle memory," explains master teacher Sunita Staneslow in the first of her five-part video series on arpeggios at Harp Column Academy. Familiarizing yourself with all the arpeggios will help you read, learn, and memorize your new music faster and more confidently.
Watch now.
This week's winners…
Harp Column magazine one-year subscription:
Harp Column Academy one-year membership:
$10 Harp Column Music coupon:
Leslie Vinson
Robert Herrick
Frederica Cataldi
(Are you a winner? We'll be contacting you with details on how to claim your prize!)
---
Day 9
"Whether you think you can or you think you can't, you're right."
—Henry Ford
Today's goal:
Stretch!
"During any type of repetitive motion, the body's ability to flush away metabolic waste products is limited," says Marissa Knaub in our 2008 special issue. "Over time, these activities cause trauma in the tissues and lead to injuries like tendonitis and carpal tunnel syndrome if you do not release that tension and allow your muscles to 'recharge.' Stretching helps your body recharge." Download this issue to learn six practical stretches to recharge your practicing here.
Today's technique tip:
Complete each articulation.
"When we pluck the string we must complete the articulation, and the first part of that is closing, but the next part is releasing," explains master teacher Nicole Brady in her video on Harp Column Academy. Refocus on the fundamentals in your warm-up today, releasing your fingers after every pluck.
Watch now. 
---
Day 8
"You miss 100% of the shots you don't take."
—Wayne Gretzky
Today's goal:
Be prepared.
There's much to be gained from keeping a variety of new and old repertoire "in the rotation," ready to go at a day's notice. Gigging harpists must maintain a lot of music ready to go on short notice. "If you want to make your full-time living playing the harp, you have to be able to do everything," says Felice Pomeranz in our May-June 1994 interview. 25 years later, nothing has changed. "You have to be able to play weddings, receptions, parties, give recitals, go play the Fauré Requiem and A Ceremony of Carols six billion times, and be able to do it with one day's practice." Download the this issue to read the full interview here.
Today's technique tip:
Listen to every finger when playing chords.
"Who is your favorite child? I don't think anyone should be able to choose a favorite child. [Your fingers] are your children. There's no favorite," says master teacher June Han. In this lesson on Harp Column Academy, In her lesson on the chordal opening of Debussy's Danses, Han shows several strategies that set your sound up for success when approaching any chord.
Watch now.
---
Day 7
"We are what we repeatedly do. Excellence, therefore, is not an act but a habit."
—Aristotle
Today's goal:
Take pride in all your work.
Catie Canale Pflaumer talks candidly about living the dual life common to many professional harpists: working a day job while practicing and freelancing. "Having pride in my work away from the harp does not diminish my enthusiasm for music. For now, I will continue with my dual life and will practice my confidence in what I can accomplish in all aspects of my life," she says. Read Finding Your Identity from our July-August 2019 issue here.
Today's technique tip:
Go slow.
What's the fastest way to relearn something old? "I find I can never skip the slow practicing," says Cheryl Losey-Feder in answering how she relearned Salzedo's Variations in a week. "If I make myself do that first, I usually have an easier time speeding it up." Listen to the Dallas Harp Quartet discuss Salzedo's Variations, as well as many aspects of learning and relearning repertoire, at Harp Column Academy.
Watch now.
---
Day 6
"Good, better, best. Never let it rest. 'Til your good is better and your better is your best."
—unknown
Today's goal:
Work smart, not hard.
Before you begin practicing today, make one goal for both your new and old pieces and accomplish the goals before moving on to anything else. Be specific! Instead of, "I want to work on this hard spot," or "I want to make this sound less boring,"  try, "I will play this measure accurately at this tempo," or "I will plan how to roll and voice this section of chords." "Practice time is often wasted by jumping from one issue to the next and diluting your focus," says Kirsten Carrell Osborne in our March-April 2015 article It's About Time. "You will gain greater benefits from the slow, mindful practice of one measure than playing through the entire piece over and over." Read more practical tips for smart practicing here.
Today's technique tip:
Develop different types of articulation.
"We as teachers are always telling our students, 'You have to articulate. Your articulation needs to be clear.' And sometimes I wonder if we are being really clear ourselves in what we mean," says master teacher Maria Luisa Rayan in her video on Harp Column Academy. Learn how to use all three finger joints to produce Henriette Renié's three types of articulation.
Watch now.
---
Day 5
"For me playing an instrument is something like martial arts. In martial arts we emphasize balance or harmonized work between the body and mind…Playing an instrument is like that too."
—Motoshi Kosako
Today's goal:
Play in tune!
"I really think that it's important for all of us to learn to tune by ear and to be comfortable tuning in 4ths and 5ths," says master teacher Bridget Kibbey in her tuning tutorial at Harp Column Academy. Practicing tuning by ear develops your sense of pitch and prepares you for performance situations in which you need to make a quick adjustment but don't have time to get out your electronic tuner. Watch now.
Today's technique tip:
Focus on the entire body.
As you learn your new piece, spend time noticing your body from the beginning of the learning process. It may be tempting to focus only on notes and rhythms and forget about your body, but by then you may have already introduced tense habits into your playing! Jazz harpist Motoshi Kosako shared insight about his holistic approach to practicing in our July-August 2014 interview. "During practice my attention is more on the entire body, and playing is secondary—it is a result of how my holistic existence is. I have to practice being intentional with everything—the way I sit at the harp, what I am trying to do." Download this issue to read the full interview here.
---
Day 4
"Knowing your direction, your goals, your dreams is where time management starts."
—Anne Sullivan
Today's goal:
Organize your time.
Maybe your new piece needs more or less attention compared to your old piece—plan out your time and stick to it today! "Learning to balance the daily rush of competing demands and complexities takes planning, patience, and practice," says Anne Sullivan in her article All the Time in the World from our July-August 2019 issue. Read more of her practical tips for managing priorities here.
Today's technique tip:
Cultivate good tone.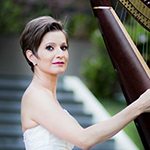 "When we play and make sound, we think it just happens…but we make it happen," says master teacher Maria Luisa Rayan (right) in her Harp Column Academy Lesson. Learn Rayan's five-step approach to producing good sound at any dynamic level.
Watch now
---
Day 3
"The way to get started is to quit talking and begin doing."
—Walt Disney
Today's goal:
Start a practice journal.
"I have found it very helpful to keep a practice journal wherein I log my progress on each piece and keep track of my checkpoints and goals along the way," says Michelle Gott (right). "Keeping a written log of my work holds me accountable to my practice schedule, and also helps me to focus on the efficacy of specific practice techniques." Read more tips by Michelle Gott, Felice Pomeranz, and Carolyn Munford from our May-June 2017 article on Building and Maintaining Repertoire.
Today's technique tip:
Plan your muffling.
As you begin a new piece or approach an old piece with fresh ears, plan where you will muffle so that you learn it as part of the piece along with all the notes and rhythms. In their lessons on Harp Column Academy, master teacher Isabelle Perrin explains the importance of muffling for rhythm, harmonic clarity, and the removal of pedal noises, and Gráinne Hambly explains the importance of muffling (or damping) for playing in a traditional Irish style.
Watch Isabelle Perrin
Watch Gráinne Hambly
This week's winners…
Harp Column magazine one-year subscription:
Harp Column Academy one-year membership:
$10 Harp Column Music coupon:
Maria M
Julie Swain
Erin Lawrence
(Are you a winner? We'll be contacting you with details on how to claim your prize!)
---
Day 2
"The best preparation for tomorrow is doing your best today."
—H. Jackson Brown, Jr.
Today's goal:
Sit at the right height!
Instead of rushing in, take time to sit thoughtfully at the harp and consider how your body feels before you begin practicing. Adjusting your bench to the optimal height will help you reduce tension and maintain healthy posture. Read tips from Ann Yeung, Xiao Lei Salovara, and Alice Spero Keene for ensuring proper bench height in our March-April 2008 issue. Download this issue.
Today's technique tip:
Know your intervals.
Master Harp Column Academy teachers Isabelle Perrin and Kim Robertson urge harpists to memorize the spacing of every interval. Solidifying fingering for basic intervals can help a new piece feel comfortable more quickly, because your hand will effortlessly adjust to each interval!
Watch Isabelle Perrin's lesson on how to play intervals.
Watch Kim Robertson's lessons on small intervals and large intervals.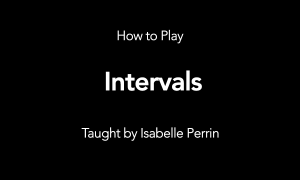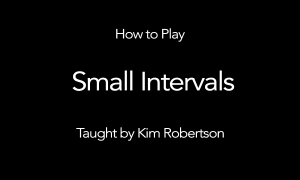 ---
Day 1
"As artists, we must find ways to move past old notes so that each performance communicates with our listeners. Whether you are a student or a seasoned professional, this is one of the most important skills to master and it can be applied to any type of piece, whether it's solo, concerto, chamber, orchestral, jazz tune, or background music."
—Jaymee Haefner
Today's goal:
Approach relearning like it's the first time.
As the Girl Scouts song goes, "Make new friends, but keep the old—one is silver and the other is gold!" Relearning old repertoire is valuable but challenging. Jaymee Haefner explains novel strategies for taking new ownership of old pieces. Read more in her article Reviving Old Warhorses from our July-August 2016 issue and check out Jaymee's studio at Harp Column Academy for more great inspiration.
Today's technique tip:
Play without tension.
Do you want to perform without tension? Focus on releasing tension during the initial stages of learning a new piece to build relaxed muscle memory. "Most harpists don't realize we don't need to use these [arm]muscles as much as we think we do," says master teacher Nicole Brady in her lesson at Harp Column Academy. "It's really our fingers that do the work on the harp and the shoulder that's helping hold it all up."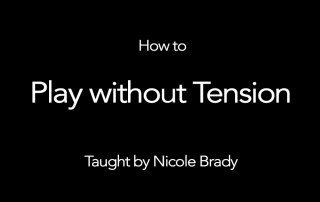 ---