Why I am in love with my iPad Pro.
(And no, I am not getting paid by Apple.)
Since at least the 1980s, if not earlier, people in the music industry have been talking about the possibility of a "digital music stand." (I know this, because my father has been in the music publishing business since the 1960s.) How cool would it be if you didn't need paper music at all, but instead you could store virtually any music you wanted to play—solo or ensemble—in your stand, ready to pull up at a moment's notice? What if you could also write directly on your stand, and easily erase or change your markings using an actual pencil? And then save them so you'd have them forever?
With the advent of Apple's full-sized iPad Pro, the digital music stand revolution has finally arrived. Luckily for me, the timing perfectly coincided with my move from the U.S. to Europe and the absolute necessity to downsize. As a proud music hoarder with a floor-to-ceiling wall of sheet music lining my music room, there was no possible way I could bring even one tenth of my music library with me to my new home.
Before I left, I spent hours—no, days actually—scanning any pieces I thought I might want to play in the coming year. Once abroad, I was really excited to have everything at my fingertips, but the smaller screen on my earlier generation iPad was admittedly a bit of a bummer. So when the Pro came out, I didn't think twice about getting one, along with the game-changing Apple Pencil. Here's why I'm really excited and why you should be too…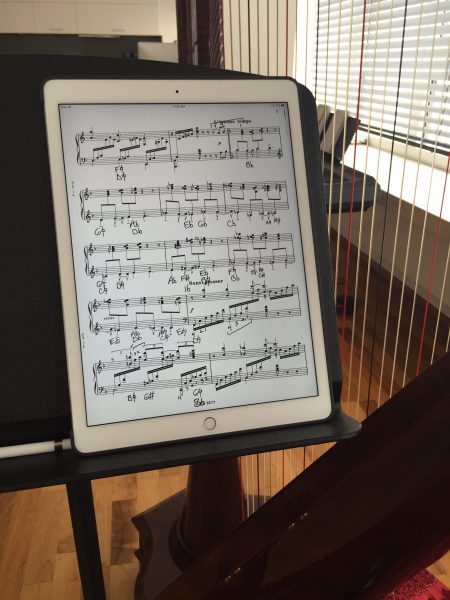 Let's start with the iPad Pro. The Pro is big. As in, music big. As in, it looks just like the size of a real piece of music on your stand big, and in some cases even bigger. If you were already using a regular-size iPad to read music, moving up to the Pro size will make you feel like you've finally arrived. If you've been holding off going digital because you were worried the regular iPad wasn't big enough, you have no more excuses (except for maybe the price tag, but trust me, it's worth it.).
Once you've got the Pro, head over to the app store to download forScore if you haven't yet. It's the industry standard music reader for the iPad. Although I've been using forScore with my smaller iPad for several years, the annotation feature (a.k.a. "marking" your music on screen) is admittedly a bit clunky. First you have to zoom in, then you have to use your finger to draw (harp finger callouses make this task even more difficult), or search for a particular stamp (during this process I managed to completely delete my "natural" sign stamp from my forScore library, but that's another topic), and the end result is adequate but not always great.
Enter the Apple pencil. I am in love with it. Seriously, it comes in a very close third after my husband and kittens. No more finger drawing or searching for stamps, just pick up your pencil and start writing. That's it. It's like having a real pencil on your music stand. Your annotation panel will automatically appear as you begin to write, and from there forScore will allow you to choose the thickness and color of your line or eraser. Although, with the full-size iPad you don't really need to zoom in to write, you can zoom in if you want even more control.
You can start from scratch with your markings, or use the "white out" tool to erase previously scanned in markings that you want to change. I started small, adding fingerings, brackets, and pedal markings here and there, but recently I graduated to marking my first really big piece—Faure's Une chatelaine un sa tour—completely from scratch using the Apple pencil.
Not surprisingly, there is a bit of a learning curve involved with all of these tools. Using forScore is not exactly intuitive at first, and it's worth pointing out one minor downside to the new iPad: battery life. Using forScore for an extended period on the Pro will suck down your battery in a big hurry. The Apple pencil also requires charging, although it will last for several days.
But for any musician tired of lugging huge binders of music around, the advantages far outweigh the effort it takes to get comfortable going digital. For me, it's been truly revolutionary. Check back in the coming weeks for more of my tips and tricks on how to integrate these technology tools into your own digital workflow. In the meantime, go pet a kitten.