—by Sasha Boldachev
"It is painful for all the harpists to lose the father of our Japanese harp world. He came to Japan over 60 years ago and started the story of the harp, one could say. How innumerable much he has done for us, one could not express with the words. I believe he continues to send his love and support to us from the heavens."
—Ayako Shinozaki, Vice–President of the Nippon Harp Association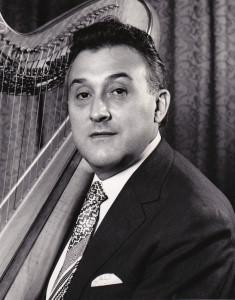 The words "God" and "Father" appear on the lips of many harpists whenever the name of Josef Molnar is mentioned. Strong and charismatic, he managed to be a singer, harpist, composer, arranger, actor, and organizer of many events. He was the founder and president of the Nippon Harp Society, founder and chairman of the Karuizawa Music School, the Soka International Harp Festival, and the Nippon Harp Competition. Professor Molnar worked tirelessly without fail—his motto was, "Tired? Never…!" He worked in four schools and two orchestras, and he performed as a soloist throughout Japan. He is considered "The Father of the Harp in Japan."
Born in Austria in 1929, his life consisted of a series of distinct memories: the Vienna Boys' Choir, studying violin, flute, piano, and finally the harp, hiding from the Hitler invasion, "being recruited and sent to war, escaping in the very last moment, because the war was over," "learning from the Jelinek brothers and working together with them in Vienna Philharmonie," and leaving Vienna for Japan at the invitation of the NHK Symphony Orchestra when he was 23.
"I still cannot forget the delightful feeling of seeing the teacher who kept playing "Vienna, City of My Dreams" for his students at the Karuizawa Summer School… Everything was sparkling as if my eyes were holding tears… My teacher had many merits to admire, a lot of memories that make me happy and laugh. He was a wonderful teacher who loved you from the bottom of his heart…."
—Chizuru Kuwabara, teacher at Ginza Jujiya
The funeral was filled with former students; the students of Professor Molnar all over the world cannot be counted, and in Japan, almost all harpists were his students or the pupils of his students. He named the very first of them in his book: Junko Nobata, Yoko Nagae, Takako Shimazaki, Hiroko Shimazaki, Atsuko Yoshino, Sumire Kawajima, Kumiko Inoue. That was the beginning of almost seventy years of pedagogical work; Professor Molnar died Nov. 21, 2018 at the age of 89. In addition to teaching, Professor Molnar left us a large number of arrangements for the solo harp and harp ensemble, as well as his own works and etudes. This legacy is still being spread around the world.
"People always thought that he had no time even to breathe, but he was a true life–lover. He enjoyed every minute with people, eating and drinking, playing the pachinko game for hours. He was always inviting the people to his home, which at that time in Japan was not normal. At first people were shocked, but very soon they got used to his invitations and would cook together with him. All his students were like a family for him. The family he never had since leaving Austria."
—Kumiko Inoue, professor at Musashino Academia Musicae
The funeral in Japan was an amazing mix of protocol, beauty, spiritual connection, and social engagement. Organized by the Japanese harp society, of which he was president until the very last day of his life, many came to pay tribute. There were more than 400 people on the first day alone.
"He was always very kind to his students. He could be impulsive and angry at lessons but immediately after very soft and pleasant. Once he told me, "You should go to Holland to study with Mrs. Berghout," but I was really afraid. So he said that he would accompany me, and we went on a ship from Yokohama to Russian Nahodka, then to Khabarovsk, took a flight to Moscow, then another flight to Vienna, and arrived in Austria after after one week of traveling. I was 22, and he spent his time with me as father and a good friend. For me, he was just a very unique person, really unique"
—Kumiko Inoue, professor at Musashino Academia Musicae
Professor Joseph Molnar was one of the most prominent representatives of harp history, as a teacher, arranger, a diverse artist, and friend of hundreds of musicians. Save him in your memory and take comfort in a legacy that will forever live on.