Beau Soir
Jacqueline Pollauf, harp; Dariusz Skoraczewski,
cello. Self-released, 2019.
Of particular note this month are three discs featuring unexpected partners. Harpist Jacqueline Pollauf plays with a breathier and darker sound, drawing on her instrument's richness to balance the dense beauty of cellist Dariusz Skoraczewski in their lovingly recorded Beau Soir. Primarily consisting of familiar works of the fin de siècle France, most notable in this handsome disc is Arvo Pärt's Fratres allowing the cello to put in motion a hypnotizing motif. The two then explore simple variations, again seeming to luxuriate in a duskier soundworld. Vaughn Williams Six Studies in English Folk Music places the duo in their sweet spot of expressiveness as well as their ability to evoke a time long gone by. Pair this one with Spiegel im Spiegel and you have utter perfection.
Launch
Admiral Launch Duo: Jennifer Ellis, harp; Jonathan Hulting-Cohen, saxophone. Albany Records, 2018.
Admiral Launch Duo's debut album Launch really grabbed my attention pairing saxophone (Jonathan Hulting-Cohen) and harp (Jennifer Ellis). The coloring is unexpected, and yet the two bend to each other, bringing out the full-throated plangent quality of the sax and a more lusty and resonant harp. This is particularly remarkable in Ida Gitkovsky's Eolienne. Websters defines this as "a lustrous lightweight dress fabric woven with a silk wrap and coarser filling threads" which seems to just about describe the weave of this superb ensemble. Patrick O'Malley captures the mystical and magical qualities of the timbers in his Thaumaturgy, a splendid mix of sotto voce sax and eerie harp techniques. Jasper Sussman's …nice box! "Oh So Square" directs the players to think, "you're a baby dinosaur, you're upset—are you angry?" and gives free reign to all that's fun as a musician, while Yusef Lateef's Romance is deliciously moody.
The Bounds of Spring
Joseph Reman, harp; and Louis Setzer, trombone. Co-op Press, 2020.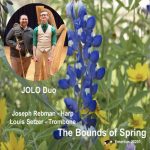 The Bounds of Spring is an elegiac collection that pairs harp with trombone. Louis Setzer's savory and complex brass tone sings easily alongside the clear, ebullient ringing quality of Joseph Rebman's tapestry of sound. Suave and with a bit of jocularity, the two avoid being too melancholy in Gideon Lewensohn's Ostinato Malinconico, the trombone both singer and someone with a sense of humor.
Favorites include Sy Brandon's Negotiations, a riff on the trials of intense longing and the stages one goes through in attaining something likely unattainable. The duo handles the mixed meter and varied moods with élan. Newly commissioned by Mack LaMont, Endless is a spirited journey through America and shows off this unusual duo to great effect.  •