We test the most popular tuning apps to find out which ones are best for harpists.
Want to know how experts get the best tune? Check out our feature article Fine Tuning in this issue. Download this issue to see a comparison chart of tuning apps at a glance.
—by Kela Walton
Our team of testers tried out seven tuning apps to find out how well they worked for a harpist's tuning needs. The apps we tested range in price from free to $9.99, and all work on both Android and iOS operating systems. All of the apps tested had ratings of four stars or higher in the Google Play and Apple App stores. Our testers (see who they are on pg. 24) rated each app on a scale of 1–5. We tested the tablet and phone versions of each app on both operating systems. Neither Harp Column nor the app testers were paid to endorse any particular app. (Scroll down to meet our testers.)
Meet our testers
Catherine Case is acting principal harpist with Symphony Tacoma and a college harp teacher.
Kelly Evans is a music teacher who has been taking harp lessons for one year.
James Scully is an 11-year-old harp student in his third year of lessons.
Kela Walton is a professional harpist and teacher in South Carolina.
Jessica Zhou is principal harpist with the Boston Symphony Orchestra.
---
#1 Tunable
Favorite App Overall
Rating: 4.4
Price: $3.99 Android, $8.99 iOS
In general, Harp Column tuning app testers love Tunable, with three out of five testers listing it as their favorite. With easy and intuitive one-click calibration and 17 temperaments to choose from, Tunable is a good choice for those who need customization. This relatively new app has a display that is different than others, but it is large and easy to read, with red and green colors to point you in the right direction. Seattle-based professional harpist Catherine Case explains, "The graph allows you to see the difference in tuning between the attack as you initially pluck the string and the decay as it rings. Definitely a unique feature of this tuner."
The calibration setting as well as temperament show in small print at all times. You can choose harp as your instrument when you set up Tunable, and then choose your level of experience to adjust the sensitivity of the app, as well as the range of accuracy. At the beginner level, a note that is within 10 cents will display as in tune, while at the advanced level, notes must be within two cents to appear as in tune. Those new to tuning may like this app because the longer the string rings between plucks, the easier it is to use Tunable.
More than just a tuner, Tunable has additional features including a customizable metronome and audio recording that can easily be shared via text, email, and airdrop. Tunable also offers a tone generator that will play any pitch as well as intervals and chords. The display does not have a landscape mode when you rotate the device, which seems odd for a paid app. It is unclear why the price is $5 more for iOS users.
Harp Column testers agree this app is great for everyday tuning at home for students and professionals alike. Both of our harp student testers rate Tunable as their top app choice, and James Scully, an 11-year-old harp student says, "This was my favorite app!"
---
#2 Tuner & Metronome by Soundcorset
Best Free App
Rating: 4.2
Price: Free (with paid monthly subscription option to remove ads)
The tuner app by Soundcorset rates unanimously as the easiest app to use and read, with all of our testers giving it a perfect rating in this category. Scully describes Soundcorset as "very easy to use." Kelly Evans, an adult harp student described the visual display as, "helpful with decay of sound, and tuning relative to it." The default display setting shows pitches in flats, which is nice for all harpists.
Testers report that the Soundcorset app works really well in the lower registers, but it has trouble picking up harp strings in the first octave. Using a pickup mic with Soundcorset seems to improve its sensitivity slightly, though not the app's ability to hear the extremely high or low strings on the harp. It also performs quite well in noisy situations with a pickup. Calibrating the tuner is easy with one click on the calibration number on the display, and a small caution symbol that appears when the app is calibrated to anything other than A440. No additional tuning temperaments are available in this app.
Soundcorset also incorporates a metronome, audio only recording features, practice tracking time log, and a free sheet music library of public domain classical solo and orchestral works sourced mostly from IMSLP. None of Soundcorset's additional features are very robust, and some of them work better on the tablet version. The metronome sound cannot be adjusted, and there is no way to annotate or export the free sheet music. Sharing any recordings you make requires creating a free Soundcorset account, and then recordings can only be stored on their website where anyone can listen to them.
Additional features aside, 100 percent of our testers agree this app is great for beginning harpists with little experience tuning. Case likes this app for beginners, "because it has a big green note name when it's in tune, and the needle doesn't jump around a lot. The cents are clearly marked, and the needle sits at 0 when it's in tune." Boston Symphony Orchestra harpist, Jessica Zhou agrees, "This is a great app to have, considering all the features and how it performs. All for the price of a free download."
---
#3 iStroboSoft by Peterson
Favorite App with Professionals
Rating: 4
Price: $9.99
At $9.99, iStroboSoft is one of the most expensive tuning apps on the market. The iStroboSoft app is produced by Peterson Strobe Tuners, a company that has been manufacturing strobe tuning machines for over 60 years. If you've never used a strobe or virtual strobe tuner, there is definitely a learning curve to use this app, as our student testers note. Scully comments, "The app was very difficult to use at first. With all the lines moving, this app made my mind spin." But he goes on to add, "Once I figured it out, the app made more sense. It really tunes well, and is my second favorite of all the apps I tested." Evans suggests that the strobe aspect needs labels or a tutorial. The iStroboSoft can detect the widest range of notes on the harp of all the apps in this test. Case recommends using a pickup. "It improves the upper register sensitivity, even in quiet settings," she says.
The iStroboSoft app unabashedly focuses on tuning only. The tuner portion of the display takes up most of the screen, and you can make it even larger. The calibration setting as well as temperament are always shown in small print on the display. The app also includes 11 various temperaments, and additional tuning "Sweetener Pack" options for in-app purchase, with three "Stretch Sweeteners" available specifically for harp.
Our testers agree iStroboSoft is not the most user-friendly when it comes to adjusting the calibration or temperament. Scully laments, "I had no idea how to get to the calibration tool." While iStroboSoft offers lots of robust tuning features, they are accessible only via a tiny arrow in the bottom corners of the app (found only in portrait mode). Unfortunately, every adjustment involves multiple clicks. For example, calibration is found under "Settings" then "Tuner Settings." The included temperaments setup also involves multi-clicking. Changing back to Equal Temperament gives an anxiety-inducing pop-up window warning. Clearly, the user interface is not designed with beginners in mind.
All of our testers agree this app is great for professionals, or anyone tuning in situations where accuracy is important. Two of our app testers list iStroboSoft as their favorite app, and many of the experts we spoke to in our how-to-tune article (see "Fine Tuning" on pg. 16) use the iStroboSoft app because it is so accurate.
Harp technician Peter Wiley says, "Peterson's iStrobosoft app running on an Apple device is just as fantastic as the expensive dedicated tuning machines I now keep in storage." Wiley tested iStroboSoft alongside his NODE machine for about two months before he was familiar with the readout and confident in the accuracy. As an Android user, Wiley has the app on his phone, and says it works okay, but prefers using it on an Apple device. "I have two iPod touch devices in my tool kit. iStroboSoft loves that Apple technology."
To make iStroboSoft easier to use, Wiley suggests, "Go into the settings and choose 'show whole cents,' otherwise it will display accuracy within a decimal point which is absolutely crazy for any acoustic instrument."
---
#4 Boss Tuner
Honorable Mention
Rating: 3
Price: Free
In the market for a free app from a brand that has been in the tuning business for decades? Look no further than the Boss Tuner app. Designed to mimic the look of the Boss TU-3 tuning machine, the display is a bit cluttered with some information you cannot use because it is there for looks rather than function. A few tweaks in the settings could make the Boss Tuner more harp-friendly. In the default settings, it is hard to tell if it is an A-natural or an A-sharp, because the only difference is a little dot next to the letter A. The pitches are displayed in the hard to read digital clock font. However, changing the "key view type" to flats in settings also changes the font, making it much easier to read. The calibration is easily changed under "Reference Pitch" in the settings. Harpists may find it helpful to experiment with adjusting the sensitivity in settings as well. Like most tuning apps, Boss Tuner has trouble hearing the outer registers of the harp. Android users may find the Boss Tuner struggles to detect the extreme bass, while iOS users may find the bass readings clear, but the top octave finicky in this app. Overall, the Boss Tuner works surprisingly well for a free app. Case sums up the Boss Tuner well. "It's a simple, no-frills tuning app that you may like if you are missing the actual Boss Tuner you grew up with."
---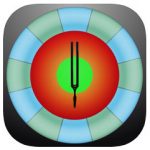 #5 TOnalEnergy
Rating: 2.8
Price: $3.99
Other instrumentalists rave about TonalEnergy, yet this app is not as popular with Harp Column testers. It displays a smiley face when the note is in tune, includes a highly customizable metronome, and a hidden video recording feature. What's not to like? Case explains, "There's a lot of distracting info on the display, like the pitch tracker and the rapidly changing cents tracker—just too much going on for my taste." Evans agrees, describing the busy display as, "sensory overload." TonalEnergy is highly sensitive, and its default settings don't deal well with the decaying sounds harps produce. Changing the settings to "Mode = Strings" and then experimenting with the accuracy "Range" levels may help the app work somewhat better for the harp. That said, TonalEnergy does not perform well in noisy situations with a pickup. "[Even in quiet situations, TonalEnergy] cannot handle any talking while tuning, or any other secondary noise," explains Evans. TonalEnergy does include a metronome function, so if you tune in quiet surroundings and long for a metronome that can sound like Dr. Beat, then this might be the all-in-one app for you. However, our youngest tester deduced, "This app is better for the violins, cellos, bases, and violas." Our testers agree TonalEnergy seems to be designed to work best for instruments that can sustain pitches.
---
#6 ClearTune
Rating: 2.6
Price: $3.99
On the app market for 11 years, ClearTune is already familiar to many harpists. Our testers like the simple interface, and suggest this app would be convenient for beginners. All our testers find ClearTune does not work well in the extreme registers of the harp even with a pickup. Two testers mention problems with the screen going dark randomly while using the app.
ClearTune can be recalibrated, and displays the calibration setting on the main display. It includes 17 temperament options, but at $3.99, other tuning apps are available that offer more features. Many free apps work just as well, if not better than ClearTune.
---
#7 Tune Again
Rating: 2
Price: Free
Tune Again made our testing list because it is sold by the same developers as the popular Pano Tuner app, which is no longer supported. Most Harp Column testers find this app to be disappointing and would not recommend it. Two testers rate it, "the worst app ever."
"It just doesn't feel intuitive at all," notes Case. "I couldn't get past the graph going in what felt like the wrong direction to me. As the needle moved one way, the graph went the other, and it was difficult to intuitively grasp what was happening." Everything feels backwards with Tune Again, even the change calibration buttons are backwards. Tune Again is not very sensitive, and there are other free apps that work much better for harps. •