The American Harp Society Foundation will host the 2016 Anne Adams Awards and Grandjany Competition on June 3–4, 2016. The competition rounds will be held in Kresge Auditorium at the DePauw University in Greencastle, Indiana. Following the competition each day will be a concert by an international artist. All events are open to the public, free of charge.
Anne Adams Awards
June 3, 2016 | 10:00am – 6:00pm
June 4, 2016 | 9:00am – 12:40pm
The Anne Adams Awards were established in 1990 by Burton Adams honoring his wife Anne Adams. The Anne Adams Fund makes it possible to present three awards of $2,000 each for full time study of harp at a college or university. Competitors are judged on both their ability to perform solo works and their ability to prepare orchestral excerpts. Eligibility for this competition requires that the competitor be enrolled full time in College for the 2016-2017 school year. In addition to winning a $2,000 award, the winners will also receive a $500 gift certificate from Lyon & Healy Harps, Inc; and a plaque with their names engraved that is displayed at the Chicago Lyon & Healy Harps,Inc. showroom. A travel stipend from the AHS Foundation is given to all winners allowing them to present and perform the traditional opening recital of the American Harp Society National Conference June 30, 2016 in Atlanta, GA .
Grandjany Awards
June 4, 2016 | 1:20pm – 4:45pm
The Grandjany Memorial Competition was established in 1980 by Bernard Grandjany and enhanced by a bequest from Mary Wheeler in 1995 in order to continue performances and appreciation of the works of Marcel Grandjany.The enhanced bequest makes it possible for one award to be given in the amount of $3,000 for further study of the harp.The Grandjany Memorial winner will join the Anne Adams Award winners at the opening recital of the American Harp Society National Conference June 30, 2016 in Atlanta, GA. The competitors are required to perform three works by Grandjany this year.
Guest Artist Concert: Caroline Lizotte, harp
June 3, 2016 | 7:30pm – 9:00pm
Green Center, Thompson Recital Hall, Depauw University
Program: Lizotte Plays Lizotte
PELLETIER: Clair de Terre (arr. Lizotte) Grande Étude d'Arpegiation
LIZOTTE: La Madone, Op. 43 Lullaby for Solo Harp
LIZOTTE: Odyssée, Op. 37 for Solo Harp
About the Artist
The brilliant Canadian harpist and composer Caroline Lizotte is internationally renowned as both a performer and as author of some of the most influential harp repertoire of the late twentieth and early twenty-first centuries.
A leading soloist, chamber and orchestral musician, Ms. Lizotte is in her twentieth season as principal harpist with the Orchestre Symphonique de Trois-Rivières and is second harp with the Orchestre Symphonique de Montréal. She has worked, recorded and toured with several Canadian ensembles and orchestras, and she is often credited in classical and popular recordings and movie soundtracks. In 2004, Lizotte founded the Four Seasons Harp Quartet with Jennifer Swartz, Lori Gemmell and Caroline Léonardelli, with whom she has performed at many of Canada's most important chamber music festivals since the quartet's formation.
Professor of harp on the Université de Montréal's music faculty, Lizotte is also a member of the Canada National Youth Orchestra's faculty and was professor of harp at the Conservatoire de Musique de Trois-Rivières from 2003 to 2010.
She is regularly invited to give master classes and concerts of her works and has served as artist-in-residence at the Glenn Gould Studio in Toronto (2016) and the Women in Music Festival of the Eastman School of Music in Rochester (2014). Ms. Lizotte has participated as a composer and soloist at World Harp Congress events since 2008 and was highlighted in several major events and concerts at the 2011 congress in Vancouver. Her Opus 49, pre-premiered at the Espace Camac in Paris, received its world premiere at the World Harp Congress in 2014.
Born in Québec City, Lizotte graduated from the Conservatoire de Musique de Québec in 1992 and studied at the Eastman School of Music in Rochester, New York. She is currently working on her 51st opus, planned for the 2017 World Harp Congress in Hong Kong, China.
Guest Artist Concert: Sasha Boldachev, harp
June 4, 2016 | 7:30pm – 9:00pm
Green Center, Thompson Recital Hall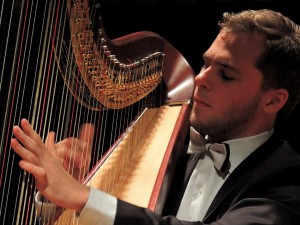 Program
GLINKA: The Lark (arr. Boldachev)
ALYABYEV: Rossignol (arr. Baier/Boldachev)
MUSSORGSKY: The Old Castle (arr. Erdeli/Boldachev)
RUBINSTEIN: The Demon (Fantasia by Boldachev)
PROKOFIEV: "Dance of the Knights" from Romeo and Juliet (arr. Boldachev)
TCHAIKOVSKY: "Waltz of the Flowers" from The Nutcracker (arr. Boldachev)
LYADOV: "Waltz" from The Music Box, Op. 32 (arr. Erdeli)
SVIRIDOV: "Waltz" from The Blizzard (arr. Boldachev)
JOPLIN: Ragtime
About the Artist
Born in St. Petersburg, Russia, in 1990 and having mastered both the piano and the harp at an early age, Sasha (Alexander) Boldachev began his concert activity at the same time he began creating his first works as a composer.
In 1996, as a member of the Children's Christmas Festival, he performed a piece by Sergei Slonimsky written especially for him. In 1997, he started as a student in the Lyceum at the St. Petersburg Conservatory, where he studied harp with Karina Maleeva and composition with Svetlana Lavrova.
Yet only nine years old at the time of his first international appearance, performing Handel's Harp Concerto with the Lithuania State Symphony Orchestra, Boldachev has since won many international competitions for harp and composition, performing in festivals as well as conducting concert activities for the International Harp Congress.
Prizes include the British Brilliant Prodigies Award, the European Foundation for Culture's ProEuropa Award (for "outstanding talent and contribution to European culture"), and fellowships from the Bank "Vontobel" in Switzerland and the "Banque Populaire" in France.
In 2005, he entered the Zurich University of the Arts in Switzerland, where he received degrees in harp performance with Catherine Michel, in composition with Mathias Steinauer, and in conducting with Marc Kissoczy.
Today, Boldachev is busy with an international schedule of concerts and master classes, traveling frequently between Russia, Europe, Asia and the Americas, where he performs not only major works from the current harp repertoire, but continually expands it with his own compositions and transcriptions.
Harp Day at Music on the Square
HARP: THE UNIVERSAL INSTRUMENT
Sponsored by The American Harp Society, The American Harp Society Foundation, DePauw University, Lyon & Healy Harps, Inc., Salvi Harps, and Vanderbilt Music Company
Presented by Robbin Gordon Cartier, Sasha Boldachev, Alexandra Perdew, Alice Keene, Carrie Kourkoumelis, Eileen Mason, Roland Ferrer Jr., and Patty Adams Harris
NO MUSIC EXPERIENCE OR KNOWLEDGE NECESSARY – everyone will easily learn to play
Program of Instruction
10:00am Introduction of topics and clinicians
Opening harp performance
History of the harp
Powerpoint/Youtube presentation on different cultures and avenues of playing
Special Effects (taught in groups) – Each group will be assigned a clinician and will master and demonstrate one effect.
Paint Chip Improv (in groups) – Each group will take the name of a paint color to develop a rhythm and feeling to portray it in a short improv with the rest of the group.
12:30pm Lunch break in downtown Greencastle
1:15pm Examples will be taught from each of the following styles:
Pop/Rock Harp – Everyone will learn about bass patterns and special effects, and how harp can "back up" an artist.
Spanish Harp – Spanish trills, spanish dances and the people's instrument. Group will play Salzedo's Tango.
Irish Harp – use of the harp as a voice and Irish jig/reel
African Harp – use of the harp as rhythm
African American Harp and use of the harp in current Christian worship – Group will learn the gospel song "Wade in the Water."
The harp in Asia – Group will learn a short song using pentatonic scales.
Bollywood Harp – new uses of the harp in Bollywood films
Harp in the U.S. movie scene – Emotional connections from small effects, the use of harp in the movies, and the gliss.
Classical Harp – Group will learn Pachabel's Cannon in D.
Orchestral Classical Harp
Harp Therapy – use of modes. What is a mode and how to learn to use them quickly.
For More Information
Suzanne Hassler
Coordinator for Music Marketing and Publications
(765) 658-6733
suzannehassler@depauw.edu