By now, you've probably seen the Dallas Harp Quartet video of Bach's Toccata and Fugue in D Minor. What you might not know is that it was recorded in the oldest chapel in the United States, and that the production process took a full year! We reached out to founding member Grace Browning to learn more about about how this video came to be and to get the scoop on what's next for the quartet.
What inspired you to want to create a music video?
Ever since the inception of the DHQ, I've always dreamed of getting the four of us together for a project like this!  The harp quartet is so rare that I wanted to give viewers the opportunity not only to hear but also SEE the harps up close, and to virtually experience the dynamic dialogue between the four instruments. Of course I'm biased, but the harp really is one of the most accessible and versatile instruments for new audiences. Once I found out that the whole quartet was available to come to Santa Fe and perform in this unique space, I knew we had to capture the opportunity and share this with the world! 
What can you tell us about the process of recording and producing the piece?
The actual recording process happened in about three hours, while the post–production process—on and off—took a little over a year! Recording in the oldest chapel presented some unique challenges: no air conditioning, creaky floors, birds chirping outside, and the occasional bell toll (one chime actually made it into the final cut). Thankfully, we had fantastic audio engineers who were able to clean up the extraneous sounds and deliver a beautiful live recording in this acoustically brilliant space! 
My goal in producing the video was to visually highlight the brilliant counterpoint of Bach's music by focusing on each instrument with the most important line(s) to bring the musical interplay to life.  Coming from the generation of MTV, I learned from a young age how powerful visuals can be in experiencing and understanding music, and I always wondered why don't classical musicians make videos too. Now in the age of social media, we have even more opportunities to reach new audiences with great quality visual/audio content; I hope this is the beginning of a new era!
Tell us more about the San Miguel Chapel.
San Miguel Chapel is the oldest known chapel still in operation in the continental United States.  Santa Fe has a unique history as it's been a melting pot for Spanish, Native American, and Mexican cultures since 900 AD.  The original records of the church date back to 1628 when it served as a Spanish military chapel, while the original foundations of a Native American dwelling date back to 1300!  fell in love with the space when I played a recital a few years back, and have since started a six–concert chamber series in the summers. DHQ was a highlight of our season last year and we hope to have them back next summer! 
I know it is your quartet's arrangement of the d–minor toccata and fugue. Why did you pick that piece?
After performing with the DHQ for almost two years, we had a few group favorites. One of them was the Bach, my first major arrangement, which was well–received by harpists and non–harpists alike, given its familiar opening as well as the virtuosic writing.  So, we chose this piece to appeal to a wide audience and to highlight the historical relevance of performing a Baroque piece in a similarly aged venue! 
Did you face any particular challenges arranging an organ piece for four harps?
Funny story—I first arranged the toccata and fugue for solo harp on my graduation recital from University of Michigan.  It was always a dream of mine to play this on the harp, but it still felt like something was missing (if only I had an extra limb!). Almost 10 years later, a few months after the DHQ was formed, the wheels began turning and I realized this was my golden opportunity to bring the Bach back with an army of harps! With four times the sound, we could match the magnitude of the organ sound in full tutti sections, while also highlighting the more delicate passages of the fugue and trading off Bach's brilliant counterpoint individually.  I was very inspired by Stokowski's epic arrangement for orchestra (first heard at age 6 via Fantasia!) so I also borrowed some of his techniques for stereophonic interplay (alternating arpeggios) and his dramatic tempi. While many of Bach's lines fit perfectly on the harp, we still had to experiment in rehearsals to figure out what works best in the ensemble (i.e. "can we try bisbigliando here and see what happens?"). Emily, Karen, and Cheryl were exceptionally patient, flexible, and creative in this process and helped make the arrangement what it is today!
So what's it like working with three other harpists? I imagine the logistics can be quite tricky, especially as you are now in different parts of the country!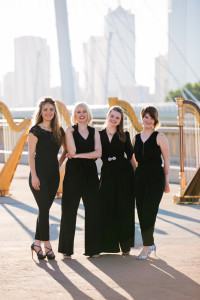 Fun, inspiring, and exhausting! The DHQ has been a dream team, musically and personally, but it's never easy to get four people and four harps in one place! We are exceptionally grateful to our IndieGoGo supporters who contributed to the DHQ Santa Fe Tour and Recording Project, which made it possible for us to travel to Santa Fe, rent cars/harps, hire a tech team, and perform three concerts in two days.  Thankfully, we all subscribe to Emily's can–do saying: Have harp, will travel! 
What does the DHQ have planned next? Any events or upcoming projects in the works? 
Although our quartet is geographically cut in half, with two of us in Dallas and two of us in New York, we plan to continue fortifying our recordings, sharing new arrangements, and aim to have a DHQ reunion in Dallas next season!  
This coming Thanksgiving, we're thrilled to debut a second music video (also filmed last summer) on the grounds of the beautiful Santa Fe Opera in Tesuque, New Mexico, overlooking the Sangre di Cristo mountains during sunrise! Harpist–composer Michael Maganuco was incredibly generous and wrote beautiful arrangement for us of Debussy's "Pagodes." We can't wait to share it with you!