You may or may not have noticed, but we're a little obsessed with Instagram at Harp Column central. We try to post a lot (follow us @harpcolumn), and we try to share your great harp posts too. (Want to get noticed? Hashtag #practicalharpist.) Naturally, the harp presents a lot of great photo ops, and some of you are just sooo good at showing them off. So to celebrate the end of the year, we're sharing our top ten harp Instagram accounts of 2017 (in no particular order). Enjoy!
@harpsicleharps
The creators of the colorful little Harpsicle (a.k.a. Rees Harps, featured in our Nov./Dec. 2016 issue) have also created one of the best Instagram feeds around if you're into harps. Not surprisingly, most of their posts showcase Harpsicles in far off and unusual places, like this shot of the Rees team on their company "yacht."
@diaryofaharpist
Want to know what it's like pursuing a harp degree at a major music school? You're in luck. This mostly video-based account gives a first-hand glimpse into the daily life of a conservatory student. From practice habits to silly antics, follow along for an inside look at what it takes to play at an elite level.
---
@jjthebrizplane
Whenever we need a good #practicalharpist repost, we can almost always trust Jessica Brizuela Betancourt's fun, light-hearted posts to come through for us. Like this one from her recent travels to Bangalore. I mean, who has this much fun MOVING A HARP???
---
@rachelleehall
Rachel Lee Hall wasn't even on our radar until we stumbled across her five-harp version of "Sleigh Ride" this holiday season. This creative Instagrammer has taken the harp-ensemble craze one step further by re-imagining the holiday classic as her own harp quintet. You'll enjoy seeing the rest of Rachel's harp and nature-based feed, and we can safely say she's the only harpist we've ever seen willing to go on camera fresh out of the shower.
---
@schurmansa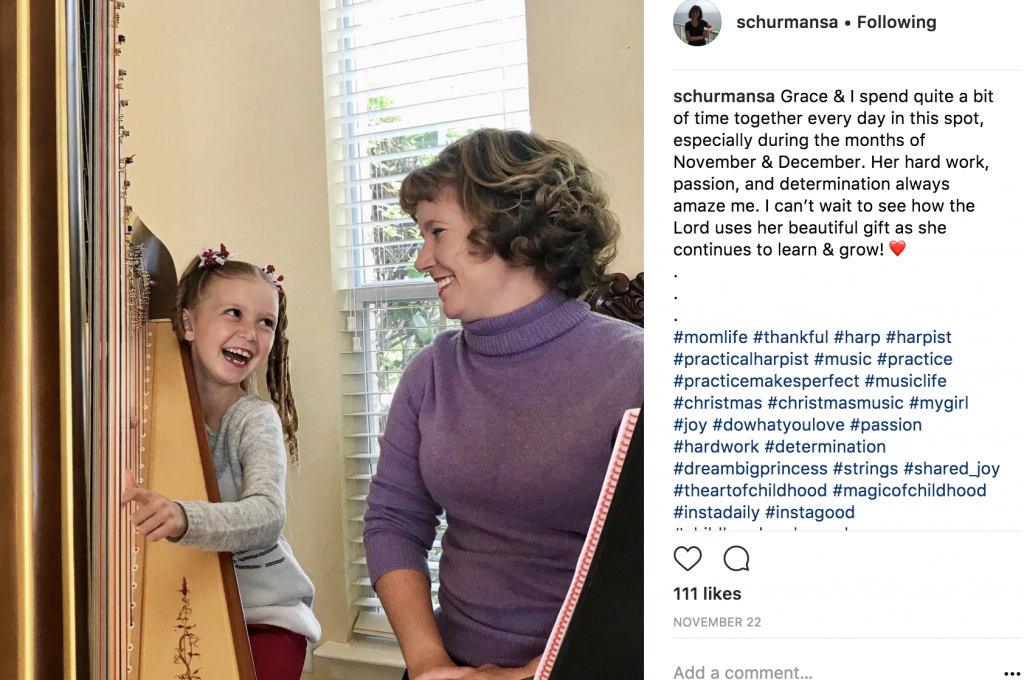 Caveat: @schurmansa is a harp mom, so her posts contain unbearably cute depictions of all her kids, one of whom happens to be an unbearably cute little harpist who also loves horses. So you'll have to wade through a bit of non-harp cuteness to get to the harp stuff hidden here, but trust us, you won't mind.
---
@fetherstonharp
We're never quite sure what we're going to get from Ashley Jackson, a.k.a. fetherstonharp. It could be a behind-the-scenes gig pic, a video snippet of her latest project, or a fashion selfie of one of her eclectic looks of the day. Whatever the moment inspires, we know you'll appreciate Jackson's impressions of a freelancer's life in New York City.
---
@colinemarieorliac
Caution: following @colinemarieorliac will lead to serious wanderlust. Based in Vienna, she posts photos of performances in stunning, historic venues (like the one above in Strauss' apartment!), but you'll quickly find out her music adventures take her all over Europe and lead to some seriously glam photos.
---
@theuphonious
@theuphonious has given us major wedding fever. Between performing in front of jaw-dropping flower backdrops and sharing videos of romantic classics, this Hong Kong harpist has gigging down—and she's got the Instagram to prove it. And for those of you who appreciate good design, she's got her layout down: you'll find some great "across-the-grid" photos on her page.
---
@emmanuel_ceysson
No harpists of Instagram list would be complete without including @emmanuel_ceysson. His page offers videos both hilarious and impressive: he lip-syncs arias while some of the best opera singers of today perform them on stage above him! You'll also find some great behind-the-scenes footage of life at the Met Opera, including glimpses of their incredible scenery and costumes.
---
@alanneleenlenaerts
Another celebrity harpist account we just can't get enough of belongs to Anneleen Lenaerts, solo harpist with the Vienna Philharmonic. If you're looking for stunning concert venues, gorgeous #viewfromtheharp perspectives, worldwide travels and more, you won't be disappointed. Plus, fashionistas will appreciate Anneleen's haute concert attire, like this on-trend gown from her recent performance with the Zagreb Philharmonic.
Do you know of an awesome harpist Instagram account we should follow? Tell us right here in the comments!