The challenge is on!
Harp Column's annual 30 Day Practice Challenge is back starting January 1.
This year we challenge you to DREAM BIG!
We challenge you to learn the piece of your dreams!
What is the one piece you've always dreamed of playing?
The piece you'll get around to learning "one day?"
The piece you've been putting off for "when there's time?"
This is the year to Dream BIG during the 30 Day Practice Challenge!
(Did you already sign up? Yay! Watch for our daily emails starting January 1!)
Choose your level
The practice challenge is FREE to join, but we have a few add-ons just for Harp Column Academy members!
FREE Practice Challenge!
Anyone can join Harp Column's 30 Day Practice Challenge! Just sign up to receive our daily motivational emails and be entered to win prizes. (Check 'em out!) Every day will share practice tips and advice to help you achieve your goals! You can also visit this page to see all the daily content in one place.
Add on a Practice Pod!
Join a practice pod led by an HCA instructor! Meet every week to get group inspiration from your pod leader, plus get one-on-one guidance in a weekly check in during pod office hours.
Pods are limited to eight members and can be added on to your HCA membership.
Challenge Chats
Throughout the challenge our HCA faculty and special guests will be leading Challenge Chats to help inspire and motivate you! These talks are open to anyone with a Harp Column Academy membership.
Challenge Rules
It's easy as 1, 2, 3 to participate in the 30 Day Practice Challenge!
1. Pick a piece
Pick the piece of your dreams to learn during this year's challenge. (Don't have a dream piece? Check out some suggestions for BIG pieces to download now at Harp Column Music.)
2. Practice 20 minutes a day
Commit to practicing your chosen piece for a mininum of 20 minutes total each day throughout the challenge. You're on the honor system!
3. Post on social media (optional)
Share your progress and share the love by tagging Harp Column and #hcpracticechallenge on social media! Tag @harpcolumn on Instagram, or search for Harp Column on Facebook.
Prizes
We're giving away great Harp Column prizes EVERY WEEK during the 30 Day Practice Challenge! Sign up for the challenge to be automatically enrolled in weekly prize drawings. Winners will be announced every Friday beginning January 8. Here are a few of the prizes we're giving away:
Win a pair of #practicalharpist Airpods Pro!
One lucky harpist will win a brand new pair of custom engraved #practicalharpist Airpods Pro! Join the challenge now to be entered to win!
Win a year of Harp Column magazine!
We're giving away a full one-year subscription to Harp Column every week! Prize includes six issues of Harp Column delivered to your door (or download the PDF edition outside the U.S.).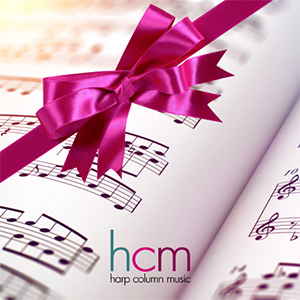 Win a Harp Column Music Gift Card!
Your choice of sheet music downloads at Harp Column Music with an HCM gift card! Choose from over 2,000 downloads from top arrangers!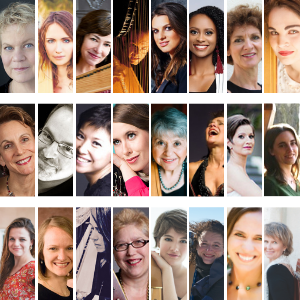 Win a year of Harp Column Academy!
Winners will receive a full year of access to over 400 video tutorials from master teachers at Harp Column Academy! Watch wherever, whenever you want.