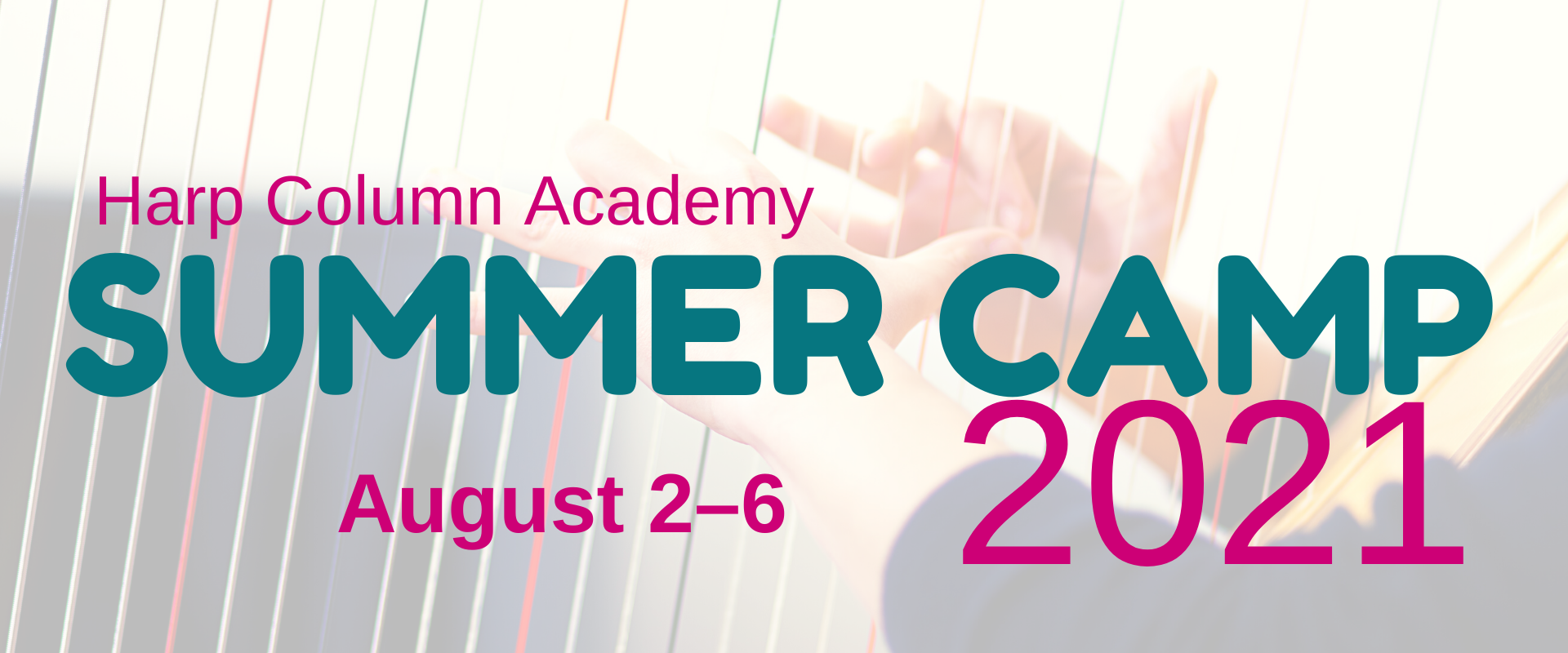 Thanks for a great HCA Summer Camp!
We hope you had a great time at Harp Column Academy Summer Camp 2021!  If you missed the live event, you can still purchase a membership to watch ALL the replays for an entire year! (Join now.)
We'd love to know how you enjoyed camp, and if there's anything you'd like to see us do different for next year. Take a short survey to give your feedback now!
How to access HCA Summer Camp:
1. Purchase membership (find out more)
2. Log in
3. Check out the Full Schedule to find the replays and handouts for each class.
(You'll need to be logged in to watch replays.)
What is Harp Column Academy Summer Camp?
HCA Summer Camp includes five days of live instruction from Harp Column Academy master teachers and special guests. All classes are presented via Zoom and recorded for you to watch for up to one year.
What's included?
40 live class sessions on harp technique, repertoire, music theory, arranging and more.

Daily "Coffee Q and A" sessions where you can ask questions about harp technique and repertoire and get expert answers from master teachers.

Opportunity to sign up for private lessons with HCA master teachers!
(Additional fees apply)

Bonus: tune in for daily "Best of Harp Column Music" sessions to hear music from HCA artists and other favorites you might like!
How do I join?
Add on a summer camp 2021 pass to your existing HCA membership. Not a member yet? Purchase the All Access + Summer Camp plan.
(Heads up! Are you already an HCA member? Register for summer camp here.)
What do participants say about HCA Summer Camp?
These teachers are just fabulous, down to earth, joyful, energetic and so positive! The variety of classes, suitable for everyone from beginner to advanced, included valuable tips and instruction in all genres. They all gave us a wealth of knowledge in each of their specialty classes. I am still in total amazement and awe, that I actually participated in this great harp camp and met so many amazing people too!
—Dana
"[HCA Summer Camp] reaffirmed that I am not the only one experiencing the harp challenges I have! And it gave me a new thought for my old line,'This is too hard!' Nothing is hard, only new!"
—Carol
"HCA [Summer Camp] was an amazing experience. It gave me the opportunity to learn a lot of different things from amazing world-class faculty. It really opens your eyes, gives you a new perspective towards the harp and music, and it is also very motivating and inspiring."
—Maria
"This was a wonderful experience! It was great to have a week of excellent harp education (and fun) in my home—no travel expenses, harp rental, etc. I so appreciate that everything was recorded—I can review classes and watch ones that I missed. The instructors were excellent. I thoroughly enjoyed it!"
—Joyce
All the classes we inspirational, and for me they offered a wonderful reminder of technique, how to play the harp and the issues harpists deal with. Though all of them were exactly in sync with how I teach, it was a treat to hear the many ways concepts can be expressed and verbalized what they were teaching. I look forward to seeing the classes that I missed. I also enjoyed seeing harpists on the participant list that I'd not connected with in years. And, I thought the informal Zoom aspect was really a delight. I truly brought together the harp community.
—Karen
Who's giving classes?
Look for your favorite HCA master teachers and special guests at HCA Summer Camp. Visit the schedule page for complete class details.