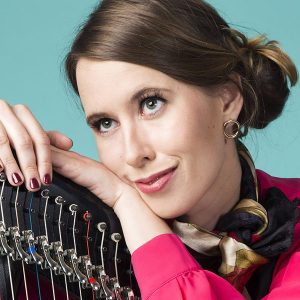 Maeve Gilchrist
Celtic technique  and improvisation
A visiting artist at the iconic Berklee College of Music, Maeve's innovative approach to her instrument stretches its harmonic limits and improvisational possibilities.
"I hope that these videos excite and inspire you in your journey as a harpist."
Learn more about Maeve Gilchrist
When we first got to know Maeve Gilchrist back in 2007, she had just won the lever harp division of the Lyon & Healy Jazz and Pop Harp Competition. She was fresh out of Berklee College of Music in Boston and finding her way as a musical transplant from Scotland. Her musical creativity and originality blossomed over the last decade as she moved back and forth between New York City and Boston.
Today Gilchrist is fresh off premiering a concerto for harp and orchestra she was commissioned to write, along with composer Luke Benton. And she has recently released an album with bass player Viktor Krauss. Though Gilchrist has done much to validate the Irish harp as an instrument on par both technically and musically with its pedal counterpart, the idea that her instrument wouldn't be taken as seriously is a foreign concept for Gilchrist, who grew up in a country with a rich and respected folk music tradition.
Perhaps the biggest step for Gilchrist and her Irish harp was her faculty appointment at her alma mater, Berklee College, which marked the first major college program to hire a strictly lever harp player on its faculty.
Read Harp Column's feature interview with Maeve in our May-June 2017 issue, and find out more about her at www.maevegilchristmusic.com.