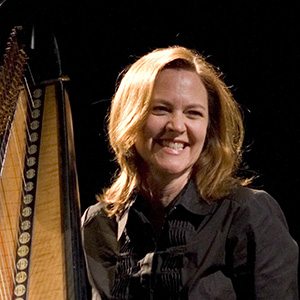 Cindy Horstman
Jazz theory and arranging
Cindy Horstman is an award-winning performer, recording artist, teacher, and arranger. Her publications for harp solo and ensemble are customer favorites at Harp Column Music.
"In the course I discuss how to create fun and interesting introductions… and how to create endings that are dramatic!"
Cindy Horstman  has been performing, recording, writing, and arranging for the past four decades. Classically trained, she is the first recipient of a Master of Music degree in harp performance from the University of Texas at Austin and a prize winner in the Lyon & Healy International Jazz Harp Competition. 
Cindy co-founded the jazz duo "2tone" with bassist Michael Medina,  the producer of 2tone's 10 CDs. 2tone has toured nationally for 20 years and their recordings have received critical acclaim on Amazon.com and CD Baby. Horstman's jazz theory workbook for harpists and her jazz-oriented arrangements and compositions for harp ensembles are very popular with harpists both nationally and internationally, becoming best sellers at Harp Column Music.  She has given clinics nationwide and recently conducted her ensemble arrangements for the youth ensemble at the American Harp Society convention in New Orleans, the TMEA harp ensemble in Round Rock, TX, and the UT Longhorn Music Camp in Austin, TX.
Cindy teaches harp at Brookhaven College and Commercial Music Theory at Collin College with an emphasis on arranging, particularly in the jazz idiom. Her composition for flute and harp "Life Aquatic" was a prize winner in the 2017 Composition Contest sponsored by the American Harp Society—Los Angeles Chapter.