Searching tips:
 Search for camps by name or location in the directory search boxes below. Narrow your search using the filters to the left. You can also search by region using the links to the right. Search for names of instructors or other program information in the directory search box on the listing page. (Note: the main site search box at the top right does not include directory listing information.)
Reminder to listers:
Since your directory information is public, anyone can contact you, including those who might not be legit. If an inquiry seems fishy, it's probably phishy. Be wary of scams.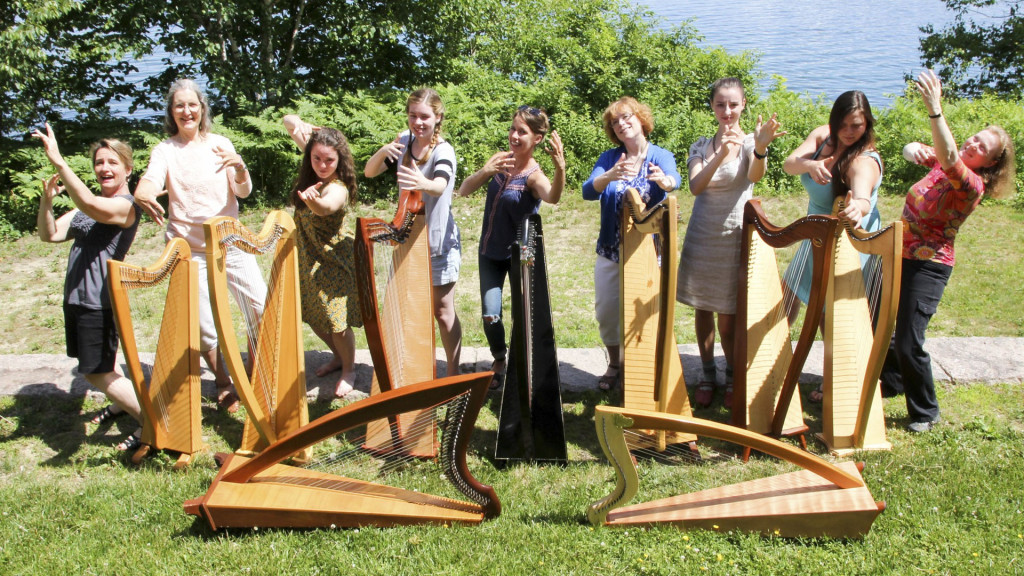 The Acadia Trad Festival, held June 23-28, 2019, is a week of classes, workshops, concerts, community dances and jam sessions held at the College of the Atlantic campus on Frenchman Bay in Bar Harbor, Maine. For more information please visit https://acadiatradschool.org.
Dates of Program
June 23-28
Will this program take place in 2019?
Yes
Length
Less than 1 week, 1 week
Harp Instructors
Maeve Gilchrist
Levels
Intermediate, Advanced, Professional
Instruments
Students must provide instrument—rentals are not available
Residency Options
Both overnight and commuting options are available
Accommodations
On campus shared rooms or off-campus housing available
Costs
$580/week classes or $135/day class + housing/meals (optional, costs vary - see website for details)
Financial Aid
Yes, partial scholarships are available
What makes this camp experience unique is:
Focused harp sessions alongside classes in other traditional instruments in a beautiful setting.
This camp is perfect for:
Harpists wanting to expand their knowledge of folk styles and contemporary Celtic harp technique
Students come back year after year for our camp's:
outstanding education experience, beautiful setting, and community of musicians and dancers
More info
The Acadia School of Music & Arts summer program is conducted on the College of The Atlantic campus in Bar Harbor, Maine. The 2019 Festival will focus on Irish, Scottish, Cape Breton, Acadian, and Québecois music and dance styles, and boasts a world-class faculty. Major classes are offered in fiddle, songs & accompaniment, bodhran, guitar, harp, cello, flute, whistle, accordion, dance, and fiddle-making. Additional instruments and genres are offered as afternoon workshops. All of the activities surrounding the classes, meals, the evening activities, & jam sessions, also happen on campus. Participants are encouraged to be in residence on campus during the week if at all possible. There are also many options for other local accommodations. 
In 2019, the harp major will be taught by Maeve Gilchrist (http://maevegilchristmusic.com). 
About Maeve Gilchrist
Described by one critic as "a phenomenal harp player who can make her instrument ring with unparalleled purity", Maeve Gilchrist has taken the Celtic harp to new levels of performance.
Born and raised in Edinburgh, Scotland, and currently based in Brooklyn, New York, Maeve's innovative approach to her instrument stretches its harmonic limits and improvisational possibilities. She is as at home as a soloist with an internationally renowned orchestra as she is playing with a traditional Irish folk group or using electronic augmentation in a more contemporary, improvisatory setting.
She tours internationally as a band leader as well as maintaining a number of collaborations including a duo project with percussive dancer Nic Gareiss, a more electronics based project with Viktor Krauss and as a member of the Irish network commissioned 'Edges of Light' quartet: a multidisciplinary group featuring the piper David Power, dancer Colin Dunne and the fiddler Tola Custy. She has appeared at such major music events as Celtic Connections in Glasgow, Tanglewood Jazz festival, the World Harp Congress in Amsterdam and the opening of the Scottish Parliament. She has played with such luminaries asEsperanza Spalding, Tony Trishka, Ambrose Akinmusire, Solas and Darol Anger.
Maeve has released five albums to date, including her most recent recording Vignette, on Adventure Records, with Nashville legend Viktor Krauss while on her own label her solo Ostinato Project is a beguiling exploration of the possibilities of her instrument.
Maeve was the first lever harpist to join the faculty of the iconic Berklee College of Music in Boston, where she taught for five years before switching to a visiting roots department artist this spring. She has written several instructional books published by Hal Leonard Music. Also an in-demand composer and arranger; this year, Maeve premiered her first concerto for lever harp and symphony orchestra and is currently working on a number of commissions including a string quartet for Irish harp and string quartet to be premiered in Scotlandin the spring of 2018.