We couldn't be happier to welcome Pedal Sliders publications to Harp Column music, just in time for the holidays! Harpist Amanda Whiting and her partner Tony Robinson form the Pedal Sliders team, and they have been busy creating jazzy arrangements of holiday classics along with clever originals (we're partial to The Elf Factory!). Lever harpists don't let their name scare you, some of their tunes have been edited just for you. Check out Pedal Sliders holiday music right here, and look for more of their creations coming soon. (You can also check out what others are saying about Pedal Sliders here.)
Check out Pedal Sliders Music: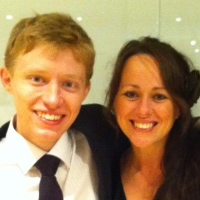 What kind of things do you like to arrange/compose?
We are composers and arrangers of jazz harp music. We love taking standard pieces and putting them in a different style and re-harmonizing them with rich jazz harmonies and funky rhythms. We also love composing new works which utilize the the beautiful sound of the harp, yet giving it a fresh and modern approach.
What's the arrangement/composition you're most proud of?
Amanda: My favourite composition is "A walk in the Park" as it has so many levels to it. You can simply play what is on the page or you can take the chords and improvise, taking it to different places. It makes me reminisce about my childhood and our local walks. Tony's is "Blues on the Mynd," which is a mountain that he loves cycling on near his home town of Church Stretton. Freedom and a place that is safe and he calls home.
What new works have you published recently, and what do you have coming up?
[We just published] our
12 Jazzy Christmas Songs for Harp
with some jazz arrangements of standards as well as some new compositions. It's fun and people seem to really love playing them. We are starting a series of books which will encompass all grades and be in the jazz idiom.
Can you give us some background or details about any of the works you have listed on Harp Column Music?
So far, we have our Christmas music advertised but will be listing our other books over the coming weeks. From Easy jazz and Blues, Intermediate Jazz and Blues and Contemporary sounds. We also have a book on being a background harpist.
Where do you look for inspiration?:
Everywhere; from everything we listen to, requests from colleagues, seasons, to our trio and a groove that sits nicely on the harp.
Are there any artists who particularly inspire you?
Miles Davis, Horace Silver, Debussy, Ella and Louis—all the classics.
What's your most favorite harp work to play?
It will always be La Source, Faure's Impromptu and Around the Clock Suite.
What's your most favorite harp work to listen to?
Ravel's Introduction and Allegro
What other music do you enjoy listening to?
This is tricky as I love Hip Hop, Beyonce, Michael Jackson and anything Jazz. Tony enjoys anything with drums!
What do you do when you're not being a musician?
Looking after my 2 year old, running, coffees, walking in the woods, but mostly traveling. It has been my obsession since i was little. Tony enjoys mountain biking and anything sporty.
Give three interesting facts you think people would like to know about you:
I love anything orange or purple. I have a two year old and we spend a lot of time dancing. I can play the drums (to a point!). Tony wished he had learnt the harp and is now trying desperately to get the right technique. He would also like to be an astronaut, and has a love of ducks.
What else do you want people to know about you?
We have a passion to write harp music which makes people smile, touches their soul, and gets them addicted to the warmth of the sound and rhythms. We don't want to make people's brains hurt or write a piece which takes months to learn. We want to write a piece which is their 'go to,' which makes their foot tap and gets stuck in their minds. Pure enjoyment.
Being a musician is about holding a conversation with others, not just talking to yourself. It is about inspiring others and creating something which inspires yourself… Just 'wanting to sit down and play for the fun of it' is key to longevity with the instrument and for keeping your love of the instrument alive.
Read more about Amanda Whiting and Pedal Sliders at www.amandawhiting.com and listen on Soundcloud.