New publications to help you get through social distancing.
—by Jan Jennings
Perhaps it was the title, "Hymn to Hope" that caught my eye, because we need something to lift us up in these trying times. Or maybe it was knowing that if Mary Radspinner arranged it, it was probably good. Either way, this new arrangement for pedal or lever harp might be just what the doctor ordered to inspire you as you self-quarantine and practice social distancing.
The piece was written by Rolf Lovland and published by Universal Music Publishing. Radspinner has published two versions beginning in the key of F major, and separate pedal and lever harp versions are included together.
The left hand crosses over the right hand in both versions to pluck out the melody when needed. Similarly, the left hand plays some harmonics to serve as repeated melody notes. This is because both hands keep busy with an arpeggiated accompaniment throughout the piece. Pedal changes are written in the center of the staff where they are easy to spot in most cases. Lever changes are diamond-shaped notes that can be challenging but manageable. Typesetting is easy to read, and page turns were well-planned. The form is A-B-A, and the second verse is in G major with a smooth and easy transition through the key change.
Intermediate players will find the music sight-readable, and almost anyone would find this lovely melody soothing and heartening.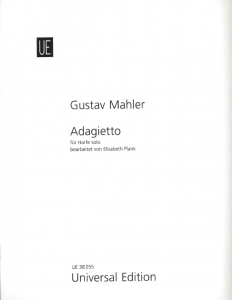 Those who love the hauntingly beautiful music of Mahler's Symphonie No. 5 will also enjoy the new harp solo version of the famous "Adagietto" arranged by Austrian harpist Elisabeth Plank. Published by Universal Edition A.G. Wien, it is six pages in length.
The typesetting is easy to read, and page turns are doable. The pedal changes are frequent and somewhat difficult, but all of them are included and marked in the middle of the staff. There is barely any fingering, but the intermediate to advanced player for whom this is intended will know what fingering to use. You can hear and watch a video of Plank playing this arrangement on her website (and the pedal work is extremely clean!) Plank uses prés de la table and harmonics to bring out some of the different timbres of the harp. The rich chord voicings allow the sonorities to ring and use the entire range of the instrument. This seems like a good project for an extended stay at home. Why not let the music inspire you?
If you are a fan of Elias Parish Alvars, you may be interested in a new publication from Ut Orpheus, edited by Anna Pasetti. Parish Alvars was described as "the Liszt of the harp" by Berlioz and was, in fact, a friend of Liszt.
Petite Fantaisie for Harp is eight pages of a piece originally published posthumously around 1850 in London. The original was probably edited by Melanie Lewy, Parish Alvars' widow. This Italian edition is beautifully typeset on oversized, crème-colored paper, but does not include any pedal markings.
It begins with an introduction played Allegro brillante in E-flat that finishes with an ascending trill leading to the main theme. The theme is in C major followed by two variations. The first features triplets and the second features sixteenth notes in the right hand. The Romanza in 6/8 is in F major with a transition back to E-flat. The Allegro brillante introduction returns and brings us to the Finale.
There is minimal fingering. The preface includes historical notes about Parish Alvars in both Italian and English. The music is suitable for the intermediate or above player (similar to the Naderman sonatas). If you enjoy this composer or period of music, this could be an effective teaching piece.
Finally, for those looking for something relatively easy to play, there is an original tune composed by Joy Slavens for pedal or lever harp called "Treasures of the Heart." Self-published and available on her website, joyslavensmusic.com, the piece is four pages long. It is written in B-flat, and page turns are not difficult.
An intro of chords followed by a single harmonic opens the piece. The melody begins in the mid-range of the instrument and then repeats itself an octave higher. This pattern of repeating the measure an octave higher continues for several measures. There is one lever or pedal change in the middle section indicated by a diamond-shaped note for lever and the pedal marking below the staff for pedal. There is one scale glissando.
The melody returns at measure 49 with each measure repeated an octave higher until the resolution. The opening chords and harmonics return to complete the piece.
No fingering is suggested. The music may be a little challenging for a beginner, but intermediate players should be able to sight read this sweet melody.
If you are tired of being housebound, let this music help calm you as you weather the storm. Stay safe, everyone! •
Jan Jennings has been the music review editor for Harp Column since 1993. She is an active freelancer and teacher, and is the author of The Harpist's Complete Wedding Guidebook and Effortless Glissing. Email her at
mail@harpbiz.com.