Check out the March-April issue of Harp Column! Log in to your subscription account or subscribe now to download this issue or read online.
March April 2019
Interviews
Game Changer
Equally at home performing in a jazz club or on a concert stage, Charles Overton marches to the beat of his own drummer—even when that beat has him turn down acceptance to Juilliard. —by Kimberly Rowe
Feature
Going Public
We take a closer look at six successful public school harp programs around the United States. —by Kela Walton
Article Extra
Public Record
Quick stats on the six public school harp programs we profile; plus, how do they get all those harps?
Article Extra
Article Extra
From the Editor
Sounding Board
Career Building
Elizabeth Steiner
Philadelphia freelancer Elizabeth Steiner kicks off our new series on navigating the early years of a harp career.
Advice
Changing Strings
Why is it important to change worn out strings before a regulation?
Recording Review
The Alchemy
The Alchemy; Elements: Gwyneth Wentink, harp; George Brooks, saxophone; Kala Ramnath, violin and vocals. Earth Brother Music, 2018.
Recording Review
Anna Segal
Rachel Talitman, harp; Jean-Marc Fessard, Adrien Eble, clarinet; oboe, Ensemble Mendelssohn. Harp & Co., 2018.
Music Review
A Slew of Solos
Jan Jennings reviews new original solos for lever and pedal harp.
March-April 2019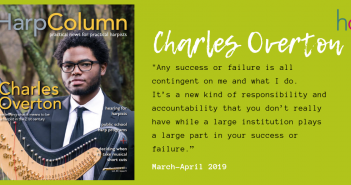 In Memoriam
Remembering Mary Bartlett (1915–2019)
Harpist, arranger, composer, pedagogue, mother, grandmother, great-grandmother —by Jacquelyn Bartlett At nearly 104 years old, Mary Bartlett practiced her harp…