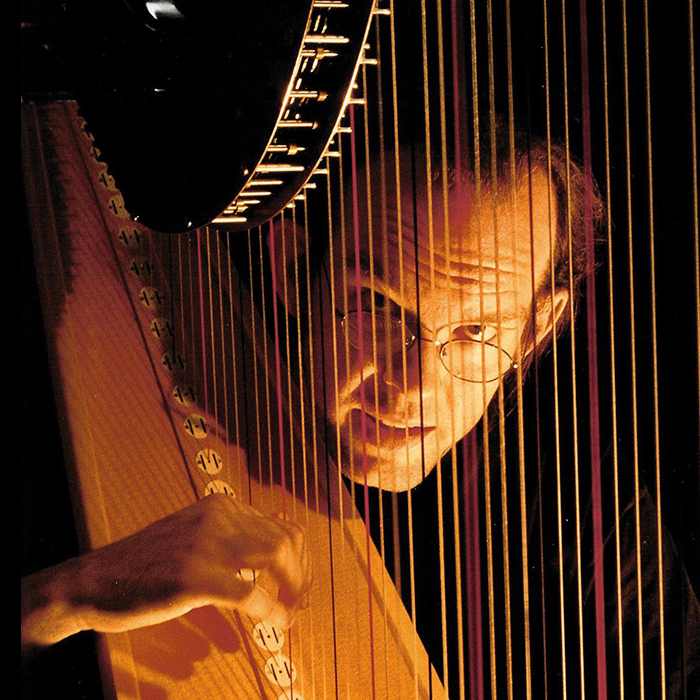 Park Stickney
Jazz theory and improvisation
Juilliard-trained Park Stickney is a master at jazz and improvisation on the harp. Currently based in Switzerland, Park concertizes throughout Europe and abroad.
"I  talk about all the things that really interest me, the things I learned along the way…the core of what I play…finally I found a way that really makes sense to me. I found a way that really fascinates me and helps me play."
While attempting to live simultaneously on a farm in Switzerland, and in Brooklyn, New York, harpist Park Stickney is constantly in motion, giving concerts throughout Europe and the U.S., solo, or in various combinations including his harp-bass-drums trio "The Lion, the Wolf, and the Donkey" and his harp-flute-percussion trio "The Dada String Quartet"
He's performed and taught in nearly every harp festival that exists, from Adelaide to Zaragoza, appeared on the French television program "La Boîte à Musique", performed on the QE2, recorded with the "Crash Test Dummies," played with John Sebastian (of the Lovin' Spoonful), made a video with Jonathan Coulton, jammed with young oud students in the West Bank, improvised cadenzas while playing the Mozart Flute & Harp concerto with Regula Küffer, played Wagner as a stowaway deep in the harp section of the Berlin Philharmonic, given concerts in a mine in South Tyrol, in a thermal bath in Switzerland, in a New York McDonalds, in Sri Lanka, Shanghai, Madras, Hong Kong, Moscow, Moldavia… He's played Broadway pits in NY, toured with the Fantasticks in Japan, and appears regularly on page 97 of Patricia Cornwell's novel "From Potter's Field."
An active teacher, Stickney is the jazz harp tutor at the Royal Academy of Music, London, an assistant-professor at the Conservatoire National Superieur de Lyon, France, and teaches harp improvisation at the Haute Ecole de Musique in Lausanne, Switzerland.
He is also an enthusiastic but spectacularly un-gifted Swiss volunteer fireman.
Stickney holds degrees from the Juilliard School and the University of Arizona, and is an honorary associate of the Royal Academy of Music. He plays the Lyon & Healy electro-acoustic harp, and is inordinately fond of black-cherry yogurt.
Read more about Park on his website at www.harplab.net.