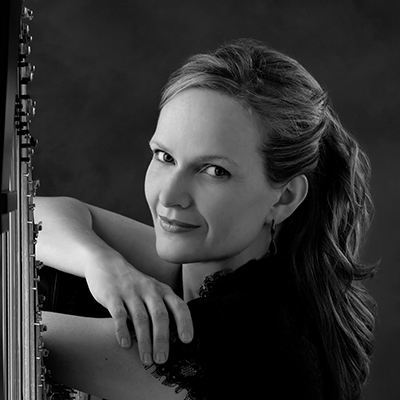 Nicole Brady
Classical technique • suzuki repertoire
From Moscow to Paris to Juilliard and back to her native Salt Lake City, Nicole Brady has studied with top harpists around the world. She now heads the harp program at Brigham Young University and is a specialist in the Suzuki learning method for harp.
"If I have the opportunity as a teacher to put something beautiful into my students' lives, then they can share it with other people, and that puts beauty into this world. It's a way of combatting all of the hardship [that people face in the world].
Nicole Brady, a native of Salt Lake City, Utah, is an accomplished musician who enjoys presenting traditional and contemporary repertoire to audiences around the world. She holds a Doctor of Musical Arts degree from The Juilliard School and currently serves as director of the harp program at Brigham Young University.
A versatile performer, Brady has appeared as a guest artist in embassies, consulates, and for government events in places such as Russia, France, the United States, and the United Nations. Additional solo appearances have included the Moscow International Harp Festival, the Yale Center for British Art Concert Series, the Temple Square Concert Series, and performances in Israel, Switzerland, and New York City.
Brady has received many awards for her playing. She has been a prizewinner in the American Harp Society National Competition multiple times. She was also a recipient of the Fulbright Scholarship and the C.V. Starr Fellowship.
Brady holds a bachelor's degree from the University of Arizona and a master's degree from the University of Michigan. Before commencing doctoral studies in New York City, Brady spent three years studying first in Russia and then France. She was invited to study at the Russian Academy of Music in Moscow, where she received an artist diploma. She then received a Fulbright Scholarship to study French harp repertoire in Paris. Nicole's primary teachers have included ShruDeLi Ownbey, Carrol McLaughlin, Lynne Aspnes, Milda Agazarian, Isabelle Perrin, and Nancy Allen.