Meet the Teachers
Get to know our HCA teachers!
Visit the studio of Lynne Aspnes to improve your technique and learn the secrets of conquering specific repertoire.
Check out Nicole Brady's studio to understand the basics of Suzuki repertoire and for easy-to-understand technique lessons.
From Moscow to Paris to Juilliard and back to her native Salt Lake City, Nicole Brady has studied with top harpists around the world. She now heads the harp program at Brigham Young University and is a specialist in the Suzuki learning method for harp.
Author of the best-selling book Principal Harp: A Guidebook for the Orchestral Harpist, Sarah Bullen is principal harpist of the Chicago Symphony Orchestra, having previously held the same position with the New York Philharmonic. Sarah Bullen was a student of Marcel Grandjany, Mildred Dilling and Susann McDonald.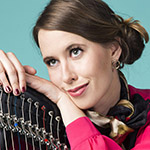 Hailing from Edinburgh Scotland, Maeve Gilchrist was the first lever harpist to join the faculty at her alma mater, Berklee College. In demand as a harpist, arranger, and composer, Gilchrist has done much to validate the Irish harp in both contemporary and traditional settings.
Internationally renowned performer and teacher, Alice Giles was first prize winner of the prestigious 8th International Harp Contest in Israel. Now on faculty at the University of Sydney, she continues to tour annually throughout the USA, Europe, and Asia.
Jaymee Haefner is Director of Undergraduate Studies and Assistant Professor of Harp at the University of North Texas. She has performed in major cities through the United States, Mexico, the Czech Republic, and Russia, and is author of the biography The Legend of Henriette Renié.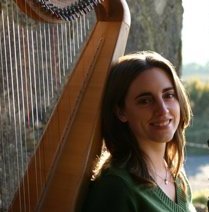 Straight from County Mayo in the west of Ireland, Gráinne Hambly is in demand worldwide as an expert on Irish traditional music for the harp. She has featured on a number of recordings and has released three critically acclaimed solo CDs, and has toured as a soloist throughout the world, giving concerts, workshops and masterclasses.
French technique and repertoire specialist June Han teaches at the Yale School of Music as well as at Juilliard's prestigious pre-college program. Born in Seoul, Korea, Han worked closely with famed French pedagogue Marie-Claire Jamet and frequently premieres major new works for the harp and appears with the New York Philharmonic.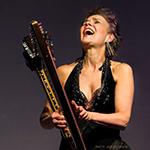 Deborah Henson-Conant ("DHC") is a Grammy-nominated harpist who specializes in creativity, improvisation, and helping harpists find their unique voice. She uses an electric harp, her own voice, and a looper pedal to layer sounds in real time, then weave solo lines and vocals above it.
Check out Bridget Kibbey's studio to explore articulation and sound production through the music of Bach and Mozart.
Bridget maintains harp studios at Bard Conservatory, The Juilliard School Pre-College Program, and The Curtis Young Artist Institute. With a passion for expanding the scope and platform of the harp, Bridget spearheads and tours cross-genre collaborations that reignite an ancient instrument.
Visit Judy Loman's studio to watch full-length masterclasses on the staples of harp repertoire.
Recognized as one of the world's foremost harp virtuosos, Judy Loman graduated from the Curtis Institute of Music, where she studied with the celebrated harpist Carlos Salzedo. Awarded the Order of Canada, Loman served as Principal Harpist with the Toronto Symphony for forty-two years and has won international admiration from audiences and critics alike.
Isabelle Perrin is the professor of harp at the Norwegian Academy of Music in Oslo and former faculty member at the Ecole Normal de Musique de Paris. Deeply dedicated to teaching, Perrin also leads a career as an international soloist and is regularly invited to play with prestigious ensembles around the world.
The first and only harpist to receive a master's degree in jazz studies from the New England Conservatory, Felice Pomeranz is professor of harp at the iconic Berklee College of Music and author of Berklee Harp: Reading, Improvisation, & Arranging for Pedal & Lever Harpists. Her classical and popular arrangements as well as several recordings are in international demand.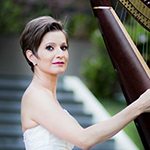 International prize winner Maria Luisa Rayan has performed as a  recitalist, chamber musician, and soloist with orchestra for the past 20 years. A highly sought-after teacher, she has presented masterclasses at major institutions around the world. Find out why everyone loves Luisa in her HCA studio!
Kim Robertson is a renowned performer, arranger, and recording artist who has stretched the boundaries of the harp for a new generation of performers and audiences. A household name in Celtic harp and a pioneer in the American folk harp movement, Kim Robertson travels the world performing and teaching with her trademark fun and easy-going style.