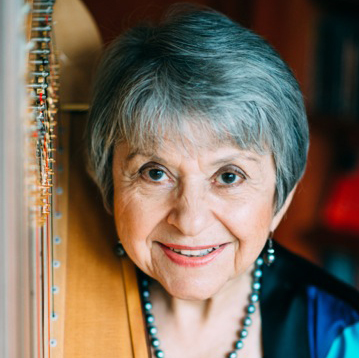 Judy Loman
classical masterclasses
Recognized as one of the world's foremost harp virtuosos, Judy Loman presents classical masterclasses for Harp Column Academy.
"I'm not going to tell you how I think you should do it, I'm going to tell you what I would do. I love to hear different interpretations of the same piece. I like to hear what you want to say in the piece, not what I want to say."
Recognized as one of the world's foremost harp virtuosos, Judy Loman graduated from the Curtis Institute of Music, where she studied with the celebrated harpist Carlos Salzedo. She served as Principal Harpist with the Toronto Symphony from 1960 to 2002. As a soloist, she has won the admiration of audiences and critics alike across Canada, the United States, Europe, and Japan. She is a recipient of Canada's Juno Award for best classical recording and the Canada Council's Grand Prix du disque Canadien. She was recently awarded the Order of Canada, a prestigious honor given by the government of Canada to Canadians who have been influential in their fields. Judy Loman has been a featured recitalist at several American Harp Society Conferences and for the World Harp Congress, where she performed the opening recital at the 2011 event in Vancouver. A dedicated teacher, Judy Loman is Adjunct Professor of harp at the University of Toronto and instructor of harp at the Royal Conservatory of Music in Toronto. She gives masterclasses worldwide and has adjudicated at both the International Harp Contest in Israel and the USA International Harp Contest.