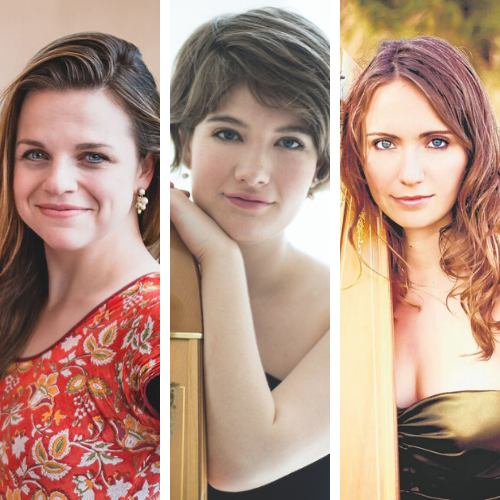 Inside the Practice Room
discussing the standards
Grace Browning, Emily Levin, and Cheryl Losey Feder are members of the Dallas Harp Quartet, and also top audition winners. Go inside their practice room as they perform and discuss standard classics.
"As you mature your ideas of [a] piece change…"
"You want to find something that is comfortable for you—and musically appropriate."
Grace Browning
After spending three years with the New World Symphony in Miami Beach, Grace moved to Dallas in 2014 to join the Dallas Opera Orchestra. A year later, she was appointed Principal Harpist of the Santa Fe Opera, where she continues to perform each summer. In 2018 she became principal harp with the Rochester Philharmonic Orchestra. Grace has also performed with the Houston Symphony Orchestra as guest principal harp, and she appears regularly as second harp with the Philadelphia Orchestra and the Dallas Symphony Orchestra. Grace has enjoyed participating in music festivals around the world including the Tanglewood Music Center, Spoleto Festival USA, Aspen Music Festival, Pacific Music Festival, and the National Repertory Orchestra. Learn more about Grace at gracebrowningharpist.com.
Emily Levin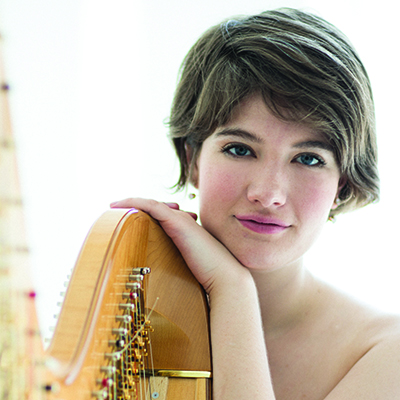 Emily Levin is the principal harpist with the Dallas Symphony Orchestra and Bronze Medal Winner of the 9th USA International Harp Competition. Her playing has been praised for its "communicative, emotionally intense expression" (Jerusalem Post) and the Herald Times commended her "technical wizardry and artistic intuition." As a soloist, orchestral musician, and chamber collaborator, Levin brings the harp to the forefront of a diverse musical spectrum, using her instrument to connect with all audiences.  She is a 2016 Winner of the Astral Artists national auditions, and a top prizewinner at the International Harp Contest in Israel. Learn more about Emily at emilylevinharp.com.
Cherly Losey Feder
The newly appointed principal harp with the Buffalo Philharmonic, Cheryl Losey Feder has earned distinction as one of America's leading young harpists. Top prizes include the Alice Rosner Prize at the Munich International Competition; First Prize and Grandjany Prize in the American Harp Society's National Solo Competition; and First Prize in the American String Teacher's Association National Solo Competition. In addition to serving as principal harp with the Sarasota Orchestra for eight years, Losey-Feder has also performed with As an orchestral harpist, she has performed with ensembles such as the Cleveland Orchestra, Philadelphia Orchestra, St. Louis Symphony, Dallas Symphony, San Diego Symphony, Houston Symphony, and the New World Symphony. Learn more about Cheryl at clfharp.com.