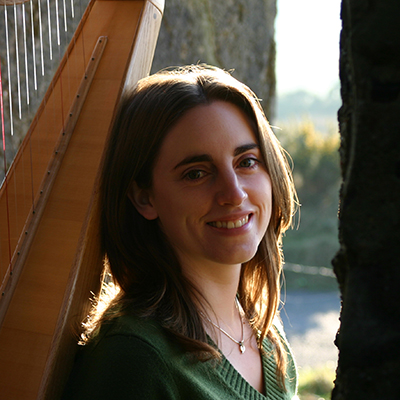 Gráinne Hambly
Celtic technique and irish repertoire
Straight from County Mayo in the west of Ireland, Gráinne Hambly is in demand worldwide as an expert on Irish traditional music for the harp.
"I think people can get the most by thinking of the pieces as examples of what they can do with other tunes—examples of what's possible."
Gráinne Hambly from County Mayo in the west of Ireland is an internationally recognized exponent of the Irish harp, and is in great demand as a performer and teacher, both at home and abroad. Gráinne started to play Irish music on the tin whistle at an early age, before moving on to the concertina and later the harp. She lived in Belfast for six years, where she completed a Masters Degree in Musicology, awarded by Queen's University (in 1999). Her main research topic was folk music collections and the harp in 18th-century Ireland. She also completed the Graduate Diploma in Education (Music) at the University of Limerick.
Gráinne has been playing professionally as a solo musician for the past 13 years, and has performed on various occasions in Germany, France, Italy, Switzerland, Brazil, Colombia, Israel, and Japan, as well as touring extensively in the United States, giving concerts, workshops and masterclasses.
She has attracted glowing praise for her live performances and recorded material, which brilliantly showcase what has been described as her 'absolute mastery of the Irish harp'. Known for the sensitivity and expressive quality of her air-playing, as well as her dynamic performance of dance tunes, Gráinne's playing illustrates the full range and scope of this ancient instrument. She has featured on a number of recordings and has released three critically acclaimed solo CDs plus a collaborative recording with Scottish harper William Jackson.
Find out more about Gráinne at grainnehambly.com.