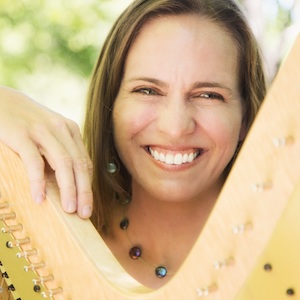 Jaymee Haefner
Brain Game
Learn tricks for more efficient practice and performance in Jaymee Haefner's specialty course. Find more lessons from Jaymee in her Harp Column Academy studio.  
"In this series of videos, we are going to be breaking down some of those things that happen between your ears when your fingers are on the strings."
More courses from Jaymee Haefner
Visit Jaymee's studio for in depth tutorials on harp technique and beginning repertoire.
Jaymee Haefner's performances have been described by Daniel Buckley as possessing "an air of dreamy lyricism… interlocking melody lines with the deftness of a dancer's footwork." Joseph Gold wrote that her "subtlety of touch reminded [him] of the immortal Nicanor Zabaleta." Jaymee has taught at the University of North Texas (UNT) since 2006 and was appointed as director of undergraduate studies for the College of Music in 2010.
An avid supporter of new compositions for harp, Jaymee Haefner has commissioned and premiered several new works, including In Arkadia for horn and harp by Gary Schocker (Los Angeles, 2015), Better than One and Snow for harp duet by Gary Schocker (New Orleans, 2015), and Music for Violin and Harp by Patricio Da Silva (Atlanta, 2016).  She was featured at the 50th Anniversary American Harp Society (AHS) National Conference in New York City, the 2014 AHS National Conference in New Orleans, and the 2016 AHS National Conference in Atlanta, premiering a new work for violin and harp which was commissioned by an American Harp Society, Inc. grant.  She has also performed throughout the Dallas‐Fort Worth area, Los Angeles, Colorado, in Mexico, the Czech Republic and Russia. Jaymee has performed under the direction of several notable conductors, including Jaap van Zweden (Dallas Symphony Orchestra), Roger Nierenberg (Music Paradigm), David Syrus (Royal Opera), and David Stern (Crested Butte Music Festival).
Her recordings include features with the Bloomington Pops Orchestra, Daniel Narducci, Alfredo Rolando Ortiz, and James Boldin; she has joined several notable musicians on stage, including Johnny Mathis, Ben Folds, The Canadian Tenors, and The Texas Tenors.  She regularly writes for The Harp Column and published a biography entitled The Legend of Henriette Renié and presented lectures at the 2014 World Harp Congress (WHC) in Sydney, the 2008 WHC in Amsterdam and the 2009 AHS Institute in Salt Lake City. Jaymee was Chairman of the 2011 AHS Institute and has served as treasurer for the World Harp Congress (WHC) and the National Harp Association Liaison for the WHC Review publication.
Dr. Haefner's current projects include her Better than One duo with harpist Emily Mitchell and her Crimson duo with violinist Matt Milewski; both duos released CD recordings in 2015. She obtained her bachelor of music and master of music degrees from the University of Arizona and her doctor of music degree from Indiana University. When she isn't on stage, Dr. Haefner trains in karate with her son, and earned her first degree black belt in 2015.
You can learn more about Jaymee Haefner at www.theprofessionalharpist.com.