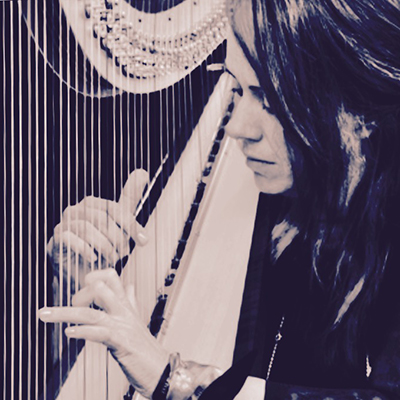 Amanda Whiting
Jazz theory and improvisation
Amanda Whiting is a specialist in the field of jazz harp. From performing at festivals around the world, to teaching in conservatoires across the country, jazz has become her passion.
"What's your sound? Have you ever just sat there and played some chords you really like? Let's be free and find our sound."
We're pleased to welcome jazz specialist Amanda Whiting to Harp Column Academy! Amanda started classical harp at the age of 6 after being mesmerised by Harpo Marx. At 16 she was awarded a specialist scholarship to Wells Cathedral School. She gained her BMus and LRSM with Caryl Thomas at Cardiff University, and her Masters in Jazz at The Royal Welsh College of Music and Drama. She has since become a freelance harpist all over the world; from recitals in London's Southbank to touring jazz festivals with trumpeter Matthew Halsall in Hamburg, London, Helsinki, Johannesburg and Belgium to name a few. In 2015, with her trio The Whiting on the Wall, she headlined at the Edinburgh Harp Festival.
In addition to her studio at Harp Column Academy, Amanda Whiting is the jazz harp specialist at Royal Welsh College of Music and Drama, in Cardiff, and at the Royal Birmingham Conservatoire.
Amanda's compositions can be found in the Trinity Harp syllabus (2020-2023), which contains 22 of her compositions featured in Pedal Sliders Harp Books. Her publications can be purchased at Harp Column Music.
Amanda's recent projects include work with numerous DJs including DJYoda, Rebecca Vasmant, and Jazzanova, as well as being on flautist Chip Wickham's new album Blue to Red.  She was also signed to Jazzman Records as a jazz artist, releasing two albums in September 2020 and February 2021.