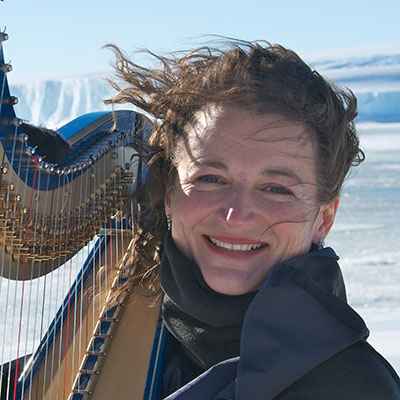 Alice Giles
Classical technique • salzedo repertoire
Alice Giles is an internationally renowned performer and teacher; she was first prize winner of the prestigious 8th International Harp Contest in Israel. 
"The instrument is so responsive to every physical gesture, that it really starts from the inside—what you imagine it takes to play the harp."
Alice Giles is celebrated as one of the world's leading harpists. As First Prize winner of the Eighth Israel International Harp Contest she has performed extensively as a soloist word-wide, and was regarded by Luciano Berio as the foremost interpreter of his Sequenza II. Recital highlights include London's Wigmore Hall, New York's 92nd Street 'Y', Merkin Hall and the Frankfurt Alte Oper. A guest artist at numerous festivals, including Marlboro Music, Scotia Festival, Schleswig-Holstein and Insel Hombroich Festivals in Germany, Bath Mozartfest, Australian Festival of Chamber Music, and the Adelaide, Huntington, Barossa and Sydney Festivals and soloist with the Israel Philharmonic Orchestra, Collegium Musicum Zürich, Badische Staatskapelle Karlsruhe, English Symphony Orchestra, Mainzer Kammerorchester, Danish Radio Concert Orchestra, Ohio Chamber Orchestra, Taiwan Symphony Orchestra, Lincoln Symphony, Israel Chamber Orchestra and regularly with all the major Australian Symphony and Chamber orchestras. She continues to tour annually throughout the USA, Europe and Asia. Alice has commissioned a complete program of works for the electro-acoustic harp, and as Director of the Seven Harp Ensemble (SHE) has commissioned many new works by Australian composers. A recipient of an Australian Antarctic Arts Fellowship, she performed at Mawson Station in 2011 to commemorate the Centenary of the first Australasian Antarctic Expedition. From 1990 to 1998 she taught at the Hochschüle für Musik in Frankfurt, was Associate Professor at the ANU School of Music and now teaches at the University of Sydney. Alice was Chair and Artistic Director of the 2014 World Harp Congress in Sydney.
Read more about Alice Giles at www.alicegiles.com; visit her online learning site at ag-online-harp-resource.teachable.com.